British European Aviation (BEA) has become the first company to secure approval from the UK regulator allowing commercial flights with single-engined turboprop aircraft at night and in instrument meteorological conditions, so-called SET-IMC operations.
The award in mid-March follows three years of work and close co-operation with the UK Civil Aviation Authority "to ensure the safety and quality standards" of the new charter service, known as Escapetime, are exceeded prior to the issue of the air operator certificate, says BEA.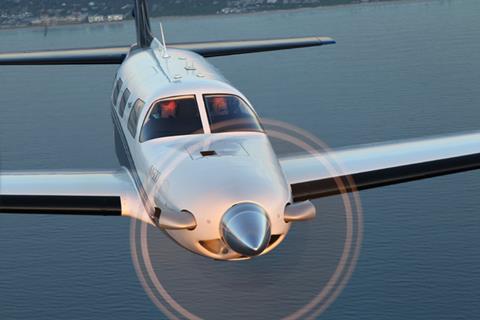 While Escapetime was scheduled to launch at the end of the March using the first of a trio of Piper M600s, its inauguration has been delayed for the foreseeable future due to the coronavirus pandemic which is sweeping through Europe and has severely curtailed aircraft movements.
BEA describes SET-IMC operations as "a revolution in general aviation", with Escapetime offering customers "the chance to fly in comfort, safety, speed, and at prices never before experienced in the luxury air-charter world".
"At last, business users can enjoy the true benefits of private air charter at a reasonable cost without a reduction in comfort, quality or safety," BEA says.
Escapetime's pressurised Piper 600s will fly up to five passengers from its base at London Wycombe Air Park – located around 30 miles (50km) north of the UK capital – to Paris, "on their own time schedule", in under 1h, for less than £600 ($700) per person.
"The service cuts out hours of waiting at major airports, and is offered to hundreds of destinations around the UK and Europe," says BEA. "These include provincial airfields, aerodromes and smaller airports giving better overall value to the end user."
Certificated in 2016, Piper's flagship M600 is capable of full instrument flight rules operations. The Pratt & Whitney Canada PT6A-42A-powered aircraft has a ceiling of 28,000ft, a cruise speed of 275kt (510km/h), and a range of 1,480nm (2,740km).
"The M600 is a brilliant aeroplane," says BEA, which is also the Piper dealer for the UK, plus the Channel Islands and the Isle of Man - Republic of Ireland, Portugal and Spain.
"It is fully equipped for what we need and can accommodate most charters [within Europe] for business and personal use," says BEA.