The US Customs and Border Protection agency is expanding its fleet of Beechcraft King Air 350CERs, with an order for two more of the twin-engined turboprops, placed in mid-May.
The pair will be delivered in September and December to Sonora, California-based engineering firm Sierra Nevada for modification. They will be used by the agency's Air and Marine Operations (AMO) unit for multirole enforcement missions.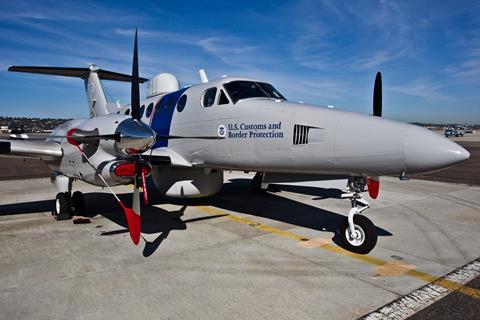 The AMO operates 23 customised 350CERs for patrols over land and sea. Beechcraft says their aircraft feature an array of active and passive sensors, data collection equipment, and satellite communication capabilities. They are operated by two flightcrew and two mission controllers
"These aircraft can fly 6h missions and can deploy to hot spots where multi-sensor patrols assist both ground and marine agents to detect, interdict, and prevent acts of terrorism as well as the unlawful movement of people, illegal drugs and other contraband toward or across the borders of the United States," says parent company Textron Aviation.
The 350CER is an extended-range version of the executive-class 350i, with an optional cargo door. It is powered by Pratt & Whitney Canada PT6A-60A turboprops, with an option to upgrade to the more powerful -67A variant.
Meanwhile, the UK Maritime and Coastguard Agency (MCA) is to upgrade the radar system on its two King Air 350s to better support its missions such as search and rescue, border protection, and fisheries and pollution patrol.
Leonardo's Osprey 30 lightweight active electronically scanned array radar will replace the Seaspary 7300E currently used on the pair – which have been supplied to the MCA by UK aviation services company 2Excel.
The Italian aerospace group says the second-generation Osprey radar is "ideally suited to mixed environment operations, such as along the coast".