Italian airframer Blackshape has flown a turboprop-powered example of its Gabriel basic trainer, as it eyes sales opportunities in Southeast Asia.
The company says it has conducted "several" flights of the Gabriel-TP, which is powered by the Rolls-Royce M250-B17.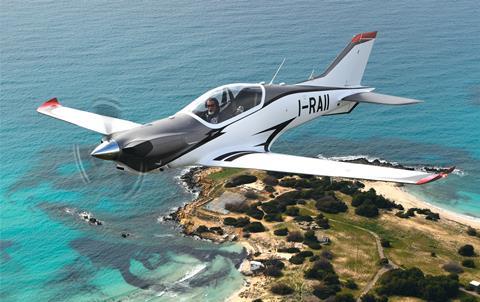 Blackshape, which displayed a piston-powered Gabriel designated BK-160 at the Singapore air show in February, says that other turboprop engines can be used, depending the availability of engine types in different countries.
The company adds that it has held preliminary discussions about its aircraft with the Philippines, Vietnam, Malaysia, and Indonesia. It is willing to consider local production, which could include providing kits for local assembly to full technology transfer.
It sees the refreshing of trainer fleets in Southeast Asia as strong potential market. In addition, the aircraft can carry a limited weapons payload, allowing for the training of strike pilots.
"Gabriel-TP can serve for both civil and military aviation," says Blackshape.
"Its ideal users are [those] who simply want to get somewhere fast, want to enjoy a higher level of emotion in flight, and flying schools that want to offer more advanced training to trainee pilots at a feasible operating cost, resting assured that spare parts are easily purchased and in-country manufacturing is possible."
Founded in 2010, Blackshape is based in Grottaglie in southern Italy and is owned by conglomerate Angel Group. Its regional distributor is Singapore-based Asia Security Technology.