US charter and management company Latitude 33 Aviation has become the first Bombardier customer to take delivery of a business jet fuelled by sustainable aviation fuel (SAF).
The Seattle-based operator flew away a Challenger 350 on 12 December from Bombardier's Dorval facility in Montreal, fuelled by cooking oil-based biofuel. Latitude 33 will manage the super-midsize business jet – its sixth Challenger-series aircraft - on behalf of an unnamed owner.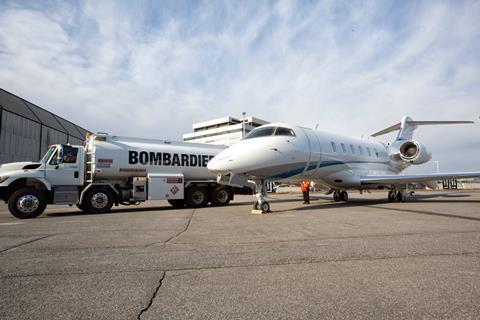 Bombardier is actively promoting the SAF as a "regular part of flying business aircraft", says the Canadian airframer's senior vice-president of worldwide sales and marketing Peter Likoray.
"Latitude 33's trust as the first customer to fly away from our delivery centre on these fuels represents a turning point in the longstanding and industry-wide pledge to reduce CO2 emissions".
In early December, the Dorval plant became Bombardier's first facility outside the USA to take delivery of SAF.
The arrival of 27,600 litres (7,300USgal) of biofuel at the site puts Bombardier a step closer to fulfilling its ambition to secure a long-term supply of sustainable fuel across its global facilities and help to make SAF the mainstream alternative to traditional jet fuel for business and general aviation aircraft worldwide.