Bombardier has delivered the first Global 5500, with the handover to an undisclosed customer on 24 June coming just over two years after the super-large-cabin business jet was introduced alongside its longer-range stablemate, the Global 6500.
The pair, which are updated versions of the Global 5000 and 6000, are powered by new 15,100lb (67kN)-thrust Rolls-Royce Pearl 15 engines, and have redesigned wings built by Mitsubishi Heavy Industries, an updated Collins Pro Line Fusion-based Vision flightdeck with a true combined vision system, and a revamped cabin.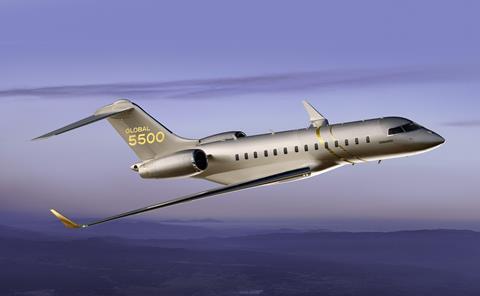 The Global 5500 has a range of 5,900nm (11,000km) – 200nm more than originally planned – while the 6500, which entered service in December 2019, can fly 6,600nm.
Bombardier Aviation president David Coleal says the milestone delivery "is of particular significance for our employees in Wichita [Kansas], who recently took on the meticulous work of interior completions for the Global 5000 and 5500".
Outfitting and customer deliveries of the Global 5000-family were transferred from Montreal to Wichita last year to free up space at Bombardier's Montreal airport-based completions centre for the flagship Global 7500. The aircraft are assembled at the manufacturer's Downsview plant in Toronto.
Bombardier says the Wichita site "has a rich history" beginning as the manufacturing centre for the Learjet family. Over the years the company has expanded the facility's operations to include service functions, plus flight-test activities.