Bombardier is poised to begin delivering and retrofitting Learjet 70 and 75 business jets with an enhanced version of the Garmin G5000 flightdeck, following US approval for the upgrade on 20 January.
The Canadian airframer launched the bespoke modification to its Vision-branded flightdeck in September 2018 due to sluggish sales of the high-end light and superlight aircraft.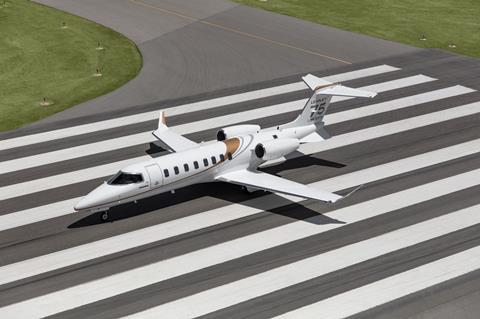 Developed in partnership with Garmin, the improvements to the avionics include climb, cruise and descent vertical navigation functions and enhanced take-off and landing performance calculations. These enhancements, Bombardier says, are designed to boost the overall efficiency and performance of the Learjet pair and reduce workload for pilots.
The improved G5000 suite also equips the in-development Learjet 75 Liberty, which is set to replace the 70/75 as Bombardier's sole light-cabin offering when it enters service this year.
Bombardier expects "strong interest" in the retrofit which it says can be performed across its service-centre network. The company declines to disclose a price for the modification, however.
The eight-passenger Learjet 70 and 75 were introduced in 2012 as revamped versions of the 40 and 45, respectively, featuring more powerful Honeywell TFE731-40BR engines, a new interior and the then-new G5000 touchscreen flightdeck.
Cirium fleets data records a global inventory of 143 70/75s, with the latter model making up the bulk of the fleet with 139 examples.
Flight testing of the Liberty, meanwhile, is continuing apace at Bombardier's US test centre and manufacturing facility in Wichita, Kansas. The company says the aircraft remains on track for certification and first deliveries in mid-2020.
Launched in 2019, the Liberty is a rescoped version of the Learjet 75, featuring a new six-passenger "executive" cabin and a $9.9 million price tag - around $3 million less than its predecessor.
Bombardier does not disclose sales of the Liberty, but says the aircraft is "generating a significant amount of interest in the market".