Bombardier is buying out its former partners in Berlin Schönefeld-based Lufthansa Bombardier Aviation Services (LBAS) to take complete control of the business aviation MRO facility. It comes as the Canadian manufacturer ramps up its service footprint as it focuses solely on the business jet market.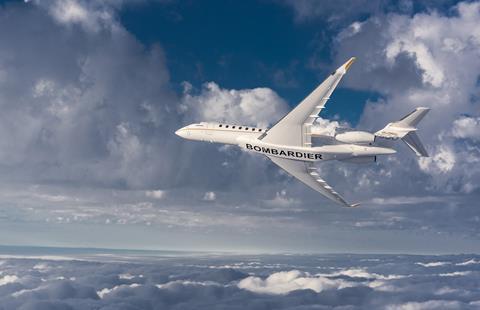 Bombardier will acquire the outstanding shares in LBAS that it does not own from Lufthansa Technik, which had 51%, and Luxaviation-owned ExecuJet, which held 20%. The airframer anticipates closing the deal by the end of the year.
Jean-Christophe Gallagher, vice-president and general manager, customer experience for Bombardier, says the move will "continue to grow our presence in Europe" and that customers "will benefit from even more advantages and expertise offered by the OEM".
LBAS was established in 1997 and operates from a 15,000m sq (160,000ft sq) hangar, employing 240 staff. It was the first service facility in Europe to perform maintenance on the new Global 7500 flagship.
Bombardier – which has now fully exited the commercial aircraft sector and is negotiating the sale of its Belfast-based aerostructures operation to Spirit AeroSystems – has made several recent investments in its service network, including an ongoing expansion of its centre at Biggin Hill, London and a new facility at Miami's Opa Locka executive airport.