Bombardier's Learjet 75 Liberty has entered service, a milestone coming 15 months after the Montreal-based company launched the updated variant.
Longtime Learjet operator Alex Lyon & Son, a New York State-based auction company, is now flying the first Liberty.
"We appreciate the speed, range and reliability of these aircraft, and we're proud to become the owners of the first Learjet 75 Liberty," Alex Lyon chief executive Jack Lyon says.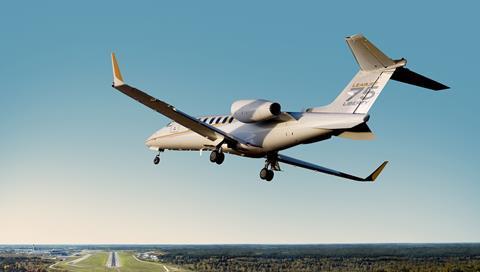 Bombardier modified the standard Learjet 75 light jet to create the Liberty, which it launched in July 2019.
The company promised to bring modern technology to the twin-Honeywell TFE731-powered Liberty while also cutting its price to $9.9 million, down from the 75's $13.8 million list price, Bombardier has said.
The Liberty has six seats – two fewer than a typical 75 layout – including two "executives suites" in front and four club seats aft. The jet's cabin measures 6m (19ft 10in) long, and its cockpit has Garmin G5000 avionics.
Bombardier also offers an 8-passenger variant.
With the Liberty, the company made some equipment, such as auxiliary power units and lavatory sinks, optional.
The changes also included increasing the Liberty's maximum zero-fuel weight to 7,480kg (16,500lb), up from the standard 75's 7,260kg weight, and boosting its payload to 1,320kg, from 957kg.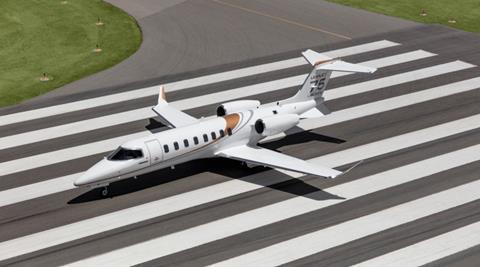 Consequently, the Kansas-built Liberty has a 2,080nm (3,850km)-range (with six people aboard), 40nm more than the baseline 75. Bombardier had said it would make no changes to the jet's Honeywell engines.
By comparison, the twin-Pratt & Whitney Canada PW535E1-powered 10-passenger Embraer Phenom 300E has 2,010nm range (with five occupants), and the nine-passenger Cessna Citation CJ3+, powered by Williams International FJ44-3As, has 2,040nm range, according to those manufacturers.
Bombardier has stressed it would certificate Liberty under Federal Aviation Administration Part 25 rules, a higher bar than the Part 23 standards under which some other light jets are approved.