Cessna has delivered the 250th Citation M2, six-and-a-half years after the first example of the light business jet entered service.
The all-metal, eight-seat aircraft was handed over on 15 June to Seattle-based company Fast Rabbit Aviation, which intends to use the M2 for "frequent trips throughout the US West Coast", says Cessna. The operator is also considering a round-the-world flight in the 1,550nm (2,870km)-range type, it adds.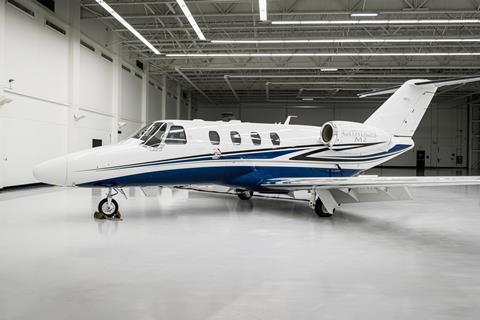 The single-pilot M2 was launched in 2011 to replace the struggling CJ1+ and revitalise Cessna's light jet sales. It introduced a host of exterior and interior enhancements – notably a Garmin G3000 avionics suite, a revamped interior with the airframer's Clarity cabin management system, winglets, and more powerful Williams International FJ44-1AP-21 engines.
It secured US type certification in December 2013 and deliveries began soon after. The M2 has a maximum take-off weight of 4,850kg (10,700lb), and a cruise speed of 400kt (740km/h).
Cirium fleets data records 174 M2s in North America, 37 in Europe, 29 in Latin America, seven in the Asia-Pacific region and three in Africa.
"The M2 is an ideal fit for operators in need of an agile aircraft with the power, range, and speed to complete their mission with efficiency and comfort," says Rob Scholl, senior vice-president of sales for parent company Textron Aviation. "Today, when reliability, flexibility, and value are more vital than ever before, we're proud to reach this milestone, and continue providing an aircraft that can support the operations of many dynamic organisations worldwide," he adds.
Cessna has shipped over 5,000 light business jets to date, with the CJ3+ and CJ4 completing the current line-up.