The Japan Air Self-Defence Force (JASDF) has taken delivery of the first two Cessna Citation Latitudes from a September 2017 order for three of the midsize business jets.
The pair are the first Latitudes to be configured for flight-inspection missions. The final example is scheduled to arrive early in 2021.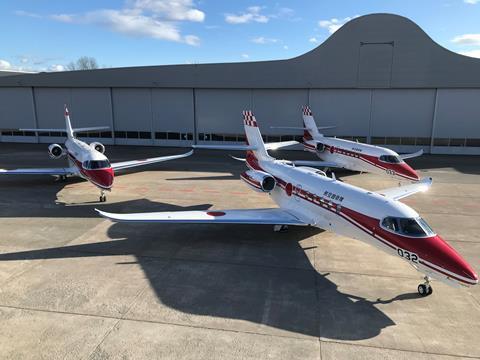 The JASDF's Flight Check Squadron - based at Iruma air base north of Tokyo - will operate the aircraft, with missions to include monitoring the accuracy of instrument approaches at Japan's airports.
The aircraft feature UNIFIS 3000-G2 flight-inspection equipment designed by Oslo-based Norwegian Special Mission. This tool can be used to analyse approach procedures and receive electronic signals that are part of the navigation aids, says Cessna parent Textron Aviation.
"Flight inspection has long been a vital part of providing a safe air transportation system, making instrument flight possible and safeguarding passengers and aircrew," says Textron Aviation's vice-president, special-mission sales Bob Gibbs. "The Latitude's long range, large cabin and class-leading performance ideally suits it for the flight-inspection mission."
Cirium fleets data records an in-service fleet of 238 Latitudes since the 2,700nm (5,000km)-range type entered service in August 2015. For the past four years, the Pratt & Whitney Canada PW306D-powered aircraft has been the most-delivered business jet in the midsize category, with output in 2019 totalling 58 aircraft.