Wichita airframer Cessna added to its orderbook on 18 October after Orlando-based charter provider Fly Alliance signed for four Citation jets and took options to purchase a further 16.
The deal involves several variants of Cessna's Citation line-up and will see the airframer deliver the first aircraft – a XLS+ Gen 2 – to Fly Alliance in the first quarter of 2023. That aircraft will also be Fly Alliance's first Cessna.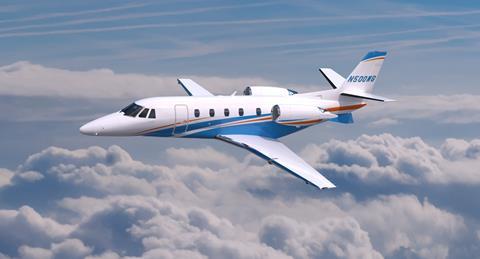 The total agreement encompasses 12 XLS+ Gen 2s, six Latitudes and two Longitudes, however the firms do not detail which aircraft are covered by firm orders, save for the initial example.
"This is an excellent path to building our fleet size to 100 aircraft in the years to come," says Fly Alliance chief executive Kevin Wargo. "We want to reiterate to our valued customers that no matter what kind of trip you are taking, we have the perfect jet for you."
The company's website lists its current fleet as comprising 24 aircraft, among them Bombardier Global Express, Gulfstream GIV-SP, Textron Aviation Hawker 800XP and Learjet 60XR jets.
Cessna's Citation XLS+ Gen 2 is a 12-passenger aircraft with range of 2,100nm (3,889km), while the Latitude can carry nine passengers up to 2,700nm, and the Longitude 12 passengers up to 3,500nm.