Cessna has launched the flight-test campaign for its SkyCourier, with the twin-engined turboprop making its maiden sortie on 17 May from the airframer's headquarters in Wichita, Kansas.
During the 2h 15min sortie, the prototype's propulsion, environmental, flight-control and avionics systems were evaluated. Performance and stability and control testing was also undertaken, says Cessna.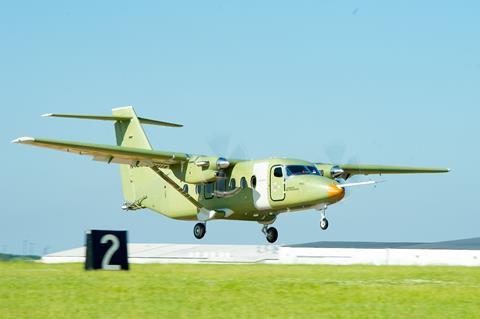 "We were very pleased with how the SkyCourier performed throughout its first flight," says senior test pilot, Corey Eckhart. "It was particularly impressive to see how stable the aircraft handled on take-off and landing."
He says the Pratt & Whitney Canada PT6A-65SC-powered aircraft "already displays a high level of maturity in its flight characteristics, especially for a first flight. We were able to accomplish everything we wanted on this flight, and that's an excellent start to the flight-test programme."
Cessna says five additional flight- and ground-test articles will be involved in the SkyCourier development and certification campaign, with the fleet continuing "to expand on performance goals, focusing on testing flight controls and aerodynamics".
A timeframe for the aircraft's certification and entry into service has not yet been disclosed.
Ron Draper, chief executive of parent company Textron Aviation, attributes the successful debut flight to the team of employees who "persevered through disruptions caused by the Covid-19 global pandemic, and remained focused on getting us to this point".
Textron Aviation in late March temporarily shuttered its manufacturing facilities and furloughed a number of US employees in response to the coronavirus outbreak.
Launched in 2017, the high-wing SkyCourier will be offered in various configurations including freighter, passenger or combi - all based on a "common platform" with a 2,720kg (6,000lb) payload.
Textron Aviation says it designed the unpressurised aircraft for "high utilisation", and to deliver "a combination of robust performance and lower operating costs".
The Garmin G1000 NXi-equipped SkyCourier has a maximum cruise speed of up to 200kt (370km/h), and a maximum range of 920nm (1,700km). Both freighter and passenger variants will offer single-point pressure refuelling to "enable faster turnarounds".
Draper says the SkyCourier will be an "excellent product in its segment due to its combination of cabin flexibility, payload capability, superior performance and low operating costs. Our customers will be very pleased with what they experience from this aircraft."