Travel restrictions imposed by the coronavirus outbreak resulted in around a third of completed Gulfstream business jets remaining undelivered in the first quarter, according to parent company General Dynamics. The constrained travel environment is also impacting sales of new aircraft due to the challenge of closing a deal, it says.
On a 29 April first-quarter earnings call, General Dynamics chief executive Phebe Novakovic said the "biggest part of the story in the quarter" was Gulfstream's inability to deliver 13 completed aircraft due to coronavirus travel restrictions.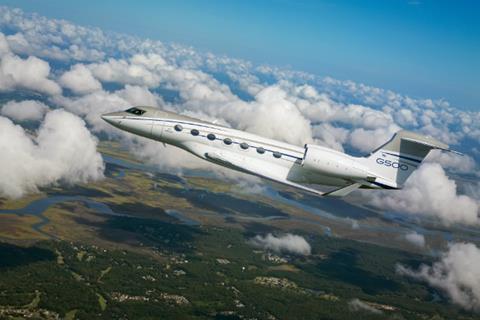 The company had been scheduled to ship 34 aircraft in the three months ended 31 March - 27 large-cabin and seven midsize jets - matching output for the same period last year.
To mitigate the impact, Novakovic says Gulfstream advanced two aircraft from deliveries planned for the second quarter into the first, "so net, we were down 11 scheduled deliveries" for the period, at 23 aircraft.
Three units from the outstanding inventory were shipped in April, and a fourth will be handed over in May, while the remaining examples will be delivered when travel restrictions are lifted and "people are happy to resume flying", says Novakovic.
"Customers definitely still want them, and they will be delivered as soon as we can," she says.
Lifting the travel restrictions should also "accelerate" sales activity at Gulfstream, Novakovic says. While interest in the business jet line-up remains robust, she says transactions are proving hard to close during the current climate.
"It is difficult for our people to make in-person sales calls; we can't take customers on demonstration rides, and it is difficult to get folks together to work on contract issues," says Novakovic.
The coronavirus outbreak is also hitting Gulfstream production. Novakovic points to issues with the supply chain: "Some of our suppliers entered this crisis somewhat impaired both from exposure to the commercial aviation market and some financial difficulties," she says. "The crisis exacerbated that and even before they were hit they were having some difficulty keeping up with our original production rate."
Novakovic also cites efficiency losses at Gulfstream's manufacturing and completion facilities due to "strict" social distancing and deep-cleaning measures.
These factors have forced Gulfstream to revise its 2020 delivery forecast from the original plan of 150, down to 125-130 G650/ERs, G600s, G550s, G500s and G280s.