Daher has installed Garmin's autoland safety system in the TBM 940 as part of a package of enhancements introduced on the 2020 version of its high-speed single-engined turboprop.
The French airframer says the autoland functionality, which it brands as HomeSafe, can control and land the aircraft without human intervention in the event of pilot incapacitation.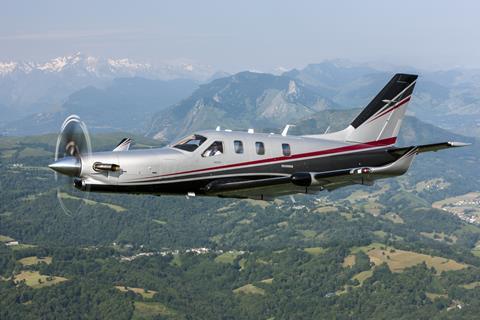 HomeSafe - which is available as a part of the 940's G3000 integrated flightdeck - also analyses weather, traffic and terrain information to select the "optimum airport for landing", says Daher, "considering such conditions as fuel range, flight distance and runway length".
Flight testing is now complete, Daher says, and the company hopes to secure US and European approval for the system by mid-year. It will also be available as a retrofit to owners of the earlier 940 variant, introduced in March 2019.
Daher is the third business aircraft manufacturer to add the Garmin autoland system: Cirrus and Piper selected the feature last year for the SF50 Vision Jet and M600SLS. respectively, and expect certification to be awarded in the coming weeks.
The 2020 version of the TBM 940, and its baseline stablemate the 910, also feature an upgraded cabin with "new high-quality leather and material finishes", a "broad choice" of colours for the seat coverings and side panels and a host of "comfort-related" additions such as headset stowage hooks behind the rear seats, additional cup holders and a tablet device holder on the side of the central console.