Daher saw flat sales in 2019, with deliveries of its Kodiak and TBM single-engined aircraft families slipping slightly, following what it calls a "tough year in the entry-level business aviation market".
The French airframer and aerostructures company shipped a combined 48 TBM 910s, 930s and 940s last year, compared with a total of 50 910s and 930s in 2018.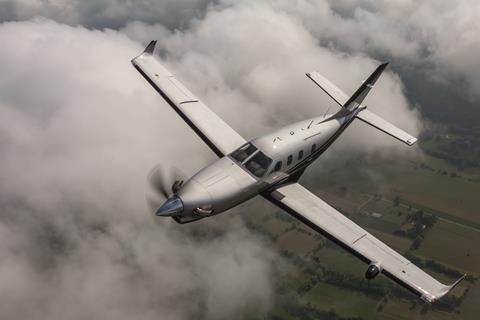 Daher introduced the 940 in March as a replacement for its three-year-old 930. The aircraft - which received European and US certifications in May and September, respectively - features an autothrottle, increased automation for the de-icing system and a redesigned interior
While Daher does not disclose a shipment breakdown by TBM model for 2019, US market research company JetNet iQ shows the introduction of the 940 has eaten into the 910 market. Deliveries of the baseline model fell from 29 aircraft in 2018 to 10 units last year, while output for Daher's top-of-the range TBMs - the 930 and 940 - almost doubled during the period from 21 to 38 aircraft.
Shipments of the Kodiak 100 slipped by three units in 2019, to 20 aircraft. The high-wing, utility aircraft was added to the Daher line-up in October following the company's acquisition of Quest Aircraft from Japan's Setouchi Holdings.
North America remains the largest market for all three Daher models with 14 Kodiaks shipped to customers in Canada and the USA – deliveries of three and 11 aircraft, respectively – and 38 TBMs to US-based customers.
To help boost orders in the country for the Pratt & Whitney Canada PT6A-powered trio, Daher has restructured and streamlined its US sales effort. The company's TBM distributorship has been dispanded and all three models are now being sold by a dedicated team in Sandpoint, Idaho - Quest's long-time home.
The company is also exploring new markets for the Kodiak, with intelligence, surveillance and reconnaissance and paragliding platforms under consideration. To date, the unpressurised, short-take-off and landing utility aircraft has largely been sold to charter and freight operators as well as humanitarian organisations for whom the Kodiak was originally designed.