Chief executive Eric Trappier believes Dassault Aviation can achieve its production target for business jets in 2023, despite continuing intense pressure on the supply chain.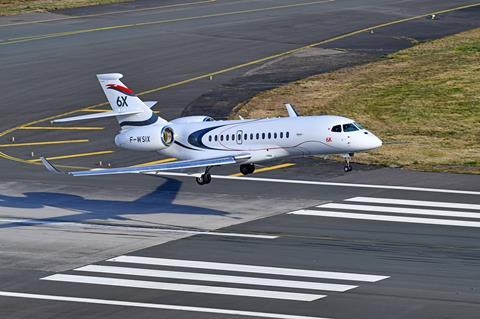 It comes as record sales last year boosted the French manufacturer's backlog to an all-time high, with commitments for 87 Falcons and 164 Rafale fighter aircraft.
Trappier refuses to be more specific about the previously stated "mid-year" service-entry date for the latest Falcon 6X twinjet, saying certification is now in the hands of the European Union Aviation Safety Agency, and "we will have to see if they sign it off in the next few weeks".
Dassault has completed a flight-test campaign for the 5,500nm (10,200km)-range type, with three examples having made more than 400 sorties. The first customer aircraft is having its cabin completion carried out at Dassault's Little Rock facility in Arkansas.
Speaking after Dassault's annual results presentation in Paris on 9 March, Trappier says the situation for aerospace suppliers "remains tough" in 2023, with skilled labour shortages the "number one concern" alongside rising energy and raw material costs.
Commercial airframers increasing production is also a challenge, as Dassault shares a large number of suppliers with Airbus in particular. Although orders "are good for everyone at the moment", Trappier maintains that ensuring an on-time delivery of parts remains his biggest headache. "Every day brings a new problem," he says.
Dassault delivered 32 Falcons in 2022, two more than the previous year. Order intake rose from 51 in 2021 to 64, increasing the backlog from 55 to 87 examples, net of cancelled Russian aircraft, which represented between 10-15% of the previous backlog, according to Trappier.
Dassault is pitching for a late 2025 in-service date for its other in-development programme, the 7,500nm-range 10X, which entered its "production phase" in the third quarter of 2022. Trappier will not reveal a target for first flight. "We have a date in mind," he says.
He says the type – Dassault's contender in a growing segment dominated by Bombardier's Global 7500/8000 and Gulfstream's G700 and G800 – will allow the manufacturer to recapture customers lost to its rivals, particularly on the US West Coast and in Asia, where there is demand for nonstop transpacific flights.