Despite the coronavirus pandemic, Dassault Aviation remains on track with development of its large-cabin Falcon 6X business jet, which is still scheduled for first flight in early 2021.
In a 9 July programme update, the French airframer says the first flight-test 6X has entered ground testing, and that the second and third test aircraft are now being assembled.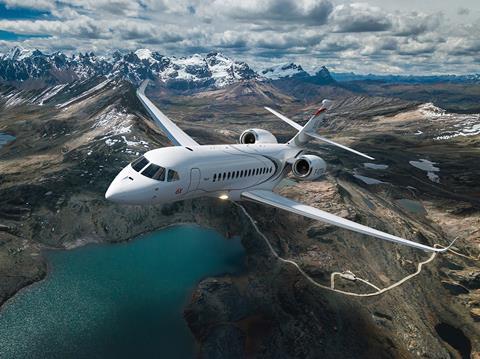 "Dassault Aviation is making steady progress toward an early 2021 planned first flight for its latest and roomiest aircraft, the Falcon 6X, despite the upheaval caused by the coronavirus," the company says. "Certification and entry into service are set for 2022, in keeping with the original timetable."
Dassault launched the 16-passenger, 5,500nm (10,200km)-range Falcon 6X in February 2018, after cancelling the troubled 5X development programme. The 5X suffered from issues with its 12,000lb-thrust class Safran Aircraft Engines Silvercrest turbofan.
For the 6X, Dassault chose twin 14,000lb-thrust Pratt & Whitney PW812D turbofans. P&W's PW800 series also powers Gulfstream's G500 and G600, and has the same core as P&W's PW1500G, which powers Airbus A220 airliners.
Dassault calls the 6X's cabin "the largest cabin cross section of any purpose-built business jet". The cabin measures 12.3m (40.5ft) long, 2m tall and 2.6m wide.
Dassault has already started ground testing its first pre-production 6X test aircraft, which will be part of a three-aircraft flight test fleet.
The second flight test jet is still under production, with its wings having recently been mated to its fuselage, and the third jet is "in the early stages of final assembly", says Dassault.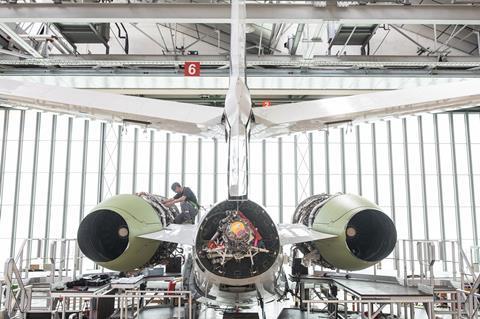 "Each will be heavily instrumented and… be capable of performing aerodynamic, performance and systems testing," the company says.
Dassault will also outfit the third test aircraft with a full cabin for the purpose of evaluating "systems functionality, acoustics, airflow, comfort and other factors".
Ahead of flight testing, Dassault has performed a variety of systems-related ground-based tests.
It has completed ground tests of the 6X's electric, hydraulic and fuel systems, and has started ground testing its digital flight control system, interior furnishings, environmental systems and electronics, Dassault says.
The company has also started ground-based "fatigue and damage tolerance testing", and will later begin load-limit stress tests.
The PW812D engine programme also remains on track, with the engine having logged 200h of airborne tests and more than 1,600h of ground tests, according to Dassault.
The engine underwent a first round of airborne tests this year and will undergo a second round this summer. Those tests are performed with a PW812D slung to the wing of P&W's Boeing 747 test aircraft, Dassault says.
The engine has also completed initial certification tests, including those related to bird strikes, ice ingestion and lost blades.