Austria's Diamond Aircraft is confident of securing European certification for its DA50 RG in the third quarter, and says it will deliver the first examples of the high-end piston-single early next year.
Launched in April 2017 with just the DA50 moniker, the six-seat model was originally offered as a fixed-gear aircraft powered by a Safran/SMA diesel engine. Diamond's acquisition in December that year by China's Wanfeng Aviation led to a programme revamp, as part of a wider restructuring effort by the new owner.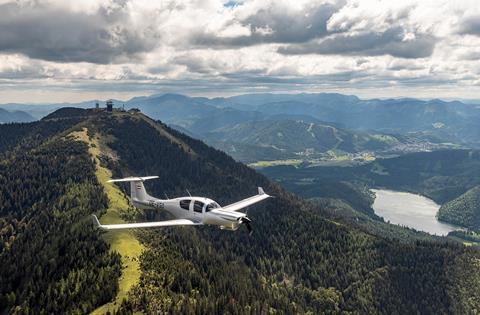 The aircraft now boasts a Continental CD-300-engine – which can run on kerosene-based Jet A, Jet A-1 and diesel – and a retractable landing gear. It also gains the RG suffix to reflect the latter feature.
The DA50 RG also has a Garmin G1000 NXi flightdeck and "one of the widest, most-comfortable cabins in its class", says Diamond, with a choice of luxury interiors, LED interior lighting and "many optional features". These include a removable right-hand control stick, an oxygen system, electric air conditioning, a TKS de-icing system and a built-in tablet mount.
Diamond chief executive Liqun Zhang says the DA50 RG "offers so much… on a single-piston aircraft that will make everyone really stand out".
The Continental engine helps the aircraft deliver lower emissions and excellent fuel efficiency compared with those running on leaded and even low-leaded aviation fuels, he says. "The DA50 RG will be the new star on the piston-single market for private pilots needing more seats and space, and charter operators looking for a low-cost alternative."
Flight testing has been under way since March 2019, says Diamond, and European validation "is well on its way" for the end of the third quarter. The Weiner Neustadt-headquartered airframer will then embark on a US certification campaign, with approval expected at the end of 2021.
As well as the DA50 RG, Diamond manufactures four aircraft families – the DA20 and DA40 piston-singles, and the DA42 and DA62 piston-twins.
Diamond is also developing an aerobatic turboprop trainer called the Dart 550, for which it is aiming to secure European certification in the first quarter of 2021.
The company delivered 233 aircraft in 2019 and 23 units in the first quarter of this year.