Dornier Seawings flew its new-generation Seastar amphibian for the first time on 28 March from its base in Oberpfaffenhofen, Germany.
The twin-engined turboprop (serial number 1003) made a 31min sortie, with chief test-pilot Wolfram Cornelius noting "its nice handling qualities".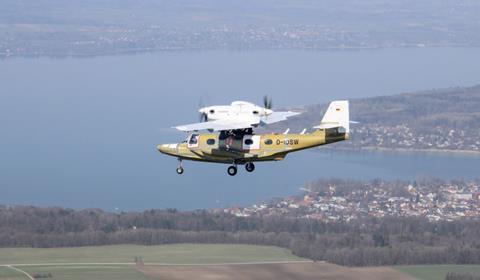 He says: "All systems functioned correctly. The advanced avionic system reflects the state-of-the-art in cockpit design, and is a good baseline for future development."
The debut sortie of the Seastar CD2 prototype came nine days after Dornier secured approvals from the European Union Aviation Safety Agency and German regulator LBA to launch the flight-test campaign. The airframer has not disclosed a timetable for certification and service entry of the 12-seat aircraft.
The Pratt & Whitney Canada PT6A-135A-powered CD2 was launched in February 2016, around 25 years after Dornier shut down the original programme because of financial problems. Despite securing US and European certification for the Seastar in 1991, no examples were delivered.
The programme was acquired in 2013 by Chinese companies Wuxi Communications Industry and Wuxi Industrial Development, although the Dornier family still retains a minority stake.
A number of improvements have been incorporated into the CD2. These include a redesigned and upgraded interior, a Honeywell Primus Epic 2.0 avionics suite, a stern hydro-thruster for improved water manoeuvring, new corrosion-resistant composite structure and landing-gear, a hydraulic and steerable nose-gear, and five-bladed composite propellers designed by MT-Propeller.
The Seastar CD2 has a maximum take-off weight of 5,100kg (11,230lb), a cruise speed of 180kt (330km/hr) and a range of 900nm (1,670 km).
Dornier says the aircraft will be offered in various configurations including cargo, passenger, special missions and VIP transport.