US business aircraft services provider Dumont Aviation has taken delivery of its 27th and final pre-owned Dassault Falcon 2000 business jet from an undisclosed fractional ownership provider, but is also planning further expansion with both a more diverse fleet and a European base under evaluation.
Dumont, now the largest Falcon operator in the world, committed to its first batch of 10 2000-model aircraft in 2017 and purchased the remaining 17 examples in the third quarter of 2018. Company founder and chief executive Dan Piraino says the acquisition was driven by "a need to update our 17-strong fleet of Falcon 50s and by rising demand for charter".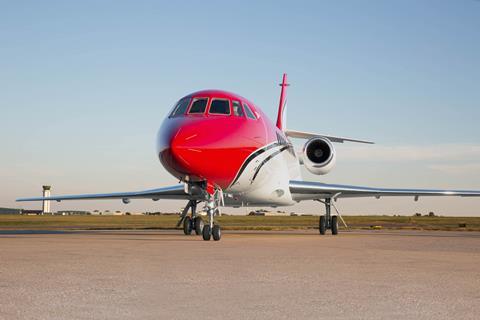 While a non-disclosure agreement forbids New Castle, Delaware-headquartered Dumont from identifying the previous owner of the Falcon 2000s, Cirium fleets data reveals that it was NetJets, which operated the 10-seat 2000s from new.
"It was a natural transition to a newer platform, and we wanted a common super-midsize fleet with a flat cabin floor," says Piraino.
"The Falcon 2000 met all our requirements and the timing was perfect as the previous operator was looking to upgrade its fleet as well," he adds.
In parallel, Dumont has been "cultivating its relationship" with Dassault, for which it provides spare parts for Falcon 10, 20, 50, 2000 and 900-series business jets.
Dumont also provides MRO services for the Falcon family, and refurbished and repainted all 27 2000s, which have an average age of 17 years.
"With their interior, high speed wi-fi and excellent in-flight service, the aircraft have been well received by the customers," the company adds. "We are signing on new customers to our jet card programme nearly every week."
Dumont is now seeking to expand the fleet with what it calls a "longer-range intercontinental aircraft".
"We are looking at several new and pre-owned aircraft options with a focus on cabin size and range, and obvious operating economics," says Piraino. "We hope to make a decision at the end of the first quarter."
The company is also planning to establish a base in Europe within the next 12 to 18 months, he adds, offering charter services and "perhaps MRO services as well".
"The market seems to be pointing at expansion into Africa as well. But only as a destination, not as a base of operations," says Piraino.