Greg Raiff's career as a business aviation entrepreneur began when he chartered a Boeing 747 to take fellow high school students to the Bahamas to mark their graduation. He sold his first company for $7 million while at college.
Over the next more than 20 years he had further success with Private Jet Services (PJS), a brokerage arranging large-aircraft charters for sports teams, political campaigns and touring rock bands.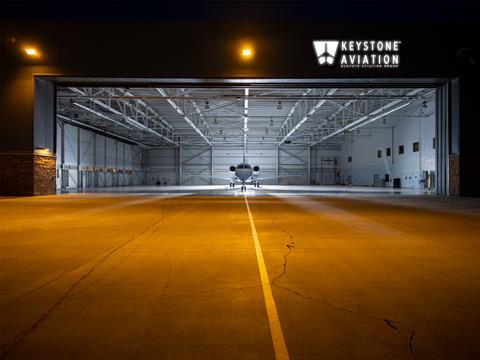 Now, after buying Utah-based Part 135 management and charter operator Keystone Aviation earlier this year, Raiff's newly formed Elevate Aviation Group – which includes PJS and Keystone – is making its debut on the NBAA exhibition floor.
New Hampshire-based Elevate, says Raiff, is a "fully integrated aviation platform which is not asset intensive" – he means that the company has no intention to own its own aircraft. It will offer management, charter brokerage and maintenance services.
Keystone operates a managed and charter fleet of more than 30 aircraft, with a Gulfstream G550 and G650 joining this year.
The purchase also came with maintenance facilities in Salt Lake City, Utah and Scottsdale, Arizona. These have approvals for most major business aviation platforms from the Pilatus PC-12 to Bombardier Globals, Dassault Falcons, and Gulfstreams.
Raiff is keen to expand with further acquisitions, in what he describes as a fragmented US MRO sector. "We are continuing to invest in growth by speaking to businesses that are complementary to us and share our values," he says.
However, Elevate will not simply "grow for the sake of it", he insists. "We have seen other companies do that and struggle. We feel good about where we are and are ready to get onto that climb. I genuinely believe there is room for a platform that provides a boutique service where charter customers and aircraft owners know we have their interests first," he says.
Is the fact that Elevate will now have both charter end-users and owners of aircraft as its customers a problem? No, maintains Raiff. The business has two sales teams which each deal exclusively with brokerage and management clients.
He is convinced Elevate's ambitions will attract plenty of interest this week, despite the company's previous relatively low profile. "This our big coming out party," he says. "We plan to show the industry we are here."