Embraer has delivered the initial example of the latest Phenom 300E, with the handover on 26 June to a US law firm coming just six months after the upgraded light-cabin business jet was launched.
Certification for the modified twin was secured from the Brazilian, European and US regulators in March.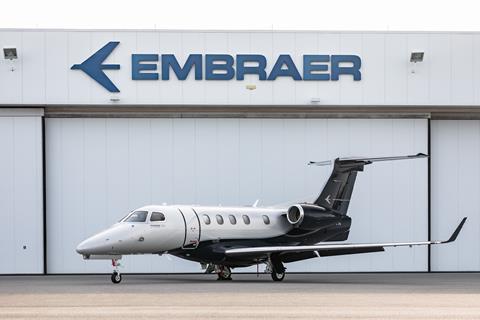 The aircraft's new Dallas, Texas-based owner will use the eight-seat aircraft for corporate transport, joining an entry-level Phenom 100EV, it says.
The Phenom 300E – E for enhanced – is the the third iteration of the Phenom 300 series, which Embraer introduced in 2009. It has been the "the top-selling light business jet for the past eight years", says the airframer.
The original Phenom 300E arrived a little over two years ago, but the latest iteration gains a host of improvements to its Garmin G3000-based Prodigy Touch flightdeck, delivering what Embraer calls "unparalleled technology in the light-jet category".
Features include predictive windshear, emergency descent mode and a runway overrun awareness and alerting system, which Embraer says is "the first technology of its kind to be developed and certified in business aviation".
Aircraft performance in the upgraded Phenom has also been boosted, with the Pratt & Whitney Canada PW535E1-powered twin delivering a high-speed cruise of 464kt (858km/h) – 11kt more than the current 300E - and a range with five occupants of 2,010nm (3,720km), almost 40nm further than its predecessor.
In the cabin, Embraer has added a number of noise-reduction measures to enhance the passenger experience, while 4G connectivity is available via the aircraft's Gogo Avance L5 air-to-ground internet system.
The Brazilian airframer has also introduced an option of the premium Bossa Nova Edition interior that made its debut in 2018 on the midsize-category Praetor 500 and 600. Flightcrew, meanwhile, benefit from increased legroom in the cockpit.
"This milestone delivery… is a testament to our ongoing commitment to providing the ultimate customer experience in business aviation," says Embraer Executive Jets chief executive Michael Amalfitano.
The Phenom 300E has "now been even further enhanced in terms of its technology, comfort and performance to ensure its market dominance in the industry," he adds.
Embraer has delivered over 540 Phenom 300s since the first example was handed over in December 2009. This includes 80 300Es, the first of which entered service in May 2018.
The aircraft is in operation in more than 30 countries and has accumulated more than one million flight hours, says Embraer.