Sales at Embraer Executive Jets in 2019 were the strongest for five years, and all the aircraft it produced in the 12 months were delivered to customers, leaving "zero white tails" in the firm's inventory.
However, the outlook for the unit over the coming 12 months is unclear, due to the impact of the coronavirus crisis on the business aviation market.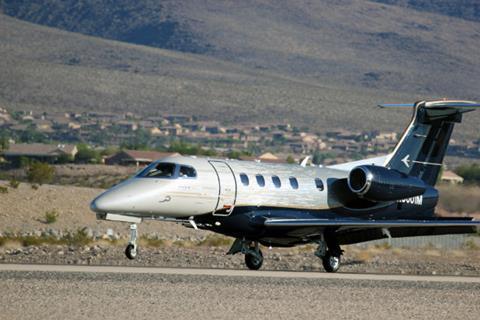 Antonio Carlos Garcia, Embraer chief financial officer, speaking on a 26 March full-year earnings call, described 2019 as a "a very good year for the executive jets business", with total deliveries of 109 aircraft: 62 light jets and 47 medium and large-cabin types. In 2018, Embraer handed over 64 light-category jets and 27 midsize and large aircraft.
Shipments were at the upper end of Embraer's guidance for the year. In addition, sales activity was the "highest" since 2014, and the company saw increased margins on the aircraft it sold.
"It's a really amazing achievement," says Garcia, with the division contributing over a quarter of Embraer's 2019 revenues of $5.5 billion, a year-on-year increase of around four percentage points.
Aircraft deliveries are continuing and the airframer secured a number of sales in the first quarter. However the outlook for the remainder of 2020 is unclear, due to what Garcia calls "the level of uncertainty surrounding the spread of Covid-19".
He says: "Governments have already imposed measures like quarantine, flight and travel restrictions and the restriction of movement between countries, all of which we expect to direct both the supply chain and demand side of our business."
Embraer is holding off on providing guidance for 2020, Garcia notes, until the full ramifications of the crisis become clear.
While it is continuing to manufacture business jets across its sites in Brazil and Melbourne, Florida, the company says it "monitoring the situation at all times".
Embraer chief executive Francisco Gomes Neto, says the Sao Jose dos Campos-headquartered firm "has already tasted different crises in the past, and we are confident that this time won't be different.
"Together with all our employees, customers and partners we will come out of this virus outbreak even stronger."
For the year ended 31 December, Embraer delivered a combined 62 Phenom 100EVs and 300Es, plus a total of 47 Legacy 450s, 500s, 650s, and Praetor 500s and 600s - the first shipments of the new jets.
Revenues for the executive jets unit climbed in 2019 from $1.1 to $1.4 billion, while the value of the backlog rose by $600 million to $1.4 billion.