Honda Aircraft has secured European steep-approach certification for the HondaJet Elite, permitting the light business jet to perform approaches at descent angles of up to 5.5°.
The European Union Aviation Safety Agency has also cleared the GE-Honda Aero Engines HF120-powered twin to carry an extra passenger, bringing total occupancy to eight.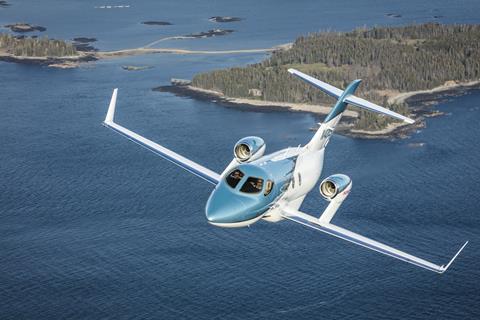 EASA approved the change in June 2019, but has only just published an amendment to the jet's type certification documents.
Following the change, the Elite, which gained European certification shortly after its launch in May 2018, is able to operate at some of the most challenging airports in the world including London City in the UK and Lugano-Agno and Sion airports in Switzerland.
Priced at $5.3 million, the Elite is the first major revamp to the HondaJet since the type entered service in December 2015.
The first-generation HondaJet secured European steep approach approval in October 2018.
Cirium fleets data records an inventory of 16 Honda Jets in Europe of which three are the Elite model. Globally, Cirium lists 40 Elites in service from total HondaJet fleet of 140 aircraft.