UK charter airline Titan Airways has become the first operator to land an Airbus airliner on the island of St Helena in the South Atlantic, following the arrival on 20 April of an A318.
The narrowbody (G-EUNB) was chartered by the UK government to carry to carry medical staff and 2.5t of "essential medical supplies" for the residents of its overseas territory, says Titan.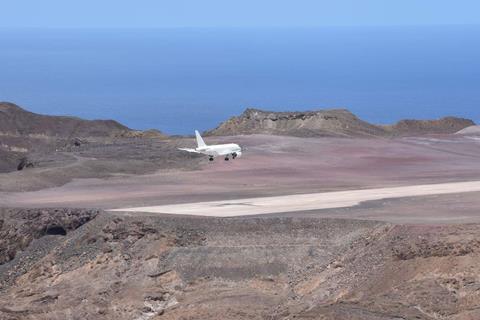 It departed Titan's base at London Stansted airport and flew to St Helena via Accra, Ghana, and Ascension Island.
The crew also performed six landings for crew training, says Titan, in anticipation of future flights to the island. "St Helena is category-C airport requiring specific crew training and regulatory approval due to known wind shear issues encountered on final approach," it adds.
Titan acquired the ex-British Airways A318 in 2017, and set about installing a crew rest area "to extend flight-duty periods to enable long-haul operations".
The company has a fleet of 12 single- and twin-aisle aircraft for commercial, cargo and VIP charter. The line-up also includes two A320s, four A321s, two Boeing 757-200s, two 737-400Fs and one 767-300.
Titan is also scheduled to take delivery of four new airliners later this year – two A321LRs and a pair of A321P2Fs, becoming the first operator of the converted freighter in the northern hemisphere, it says.