Shipments of fixed-wing business and general aviation aircraft soared in 2019 to their highest level for a decade, thanks to resurgent business jet and piston-engined aircraft sectors. In addition, the mix of deliveries in favour of high-end, high-value models resulted in the strongest billings for the industry in four years.
According to data from the General Aviation Manufacturers Association (GAMA), published on 19 February, deliveries of business jets, turboprops and piston-engined aircraft totalled 2,658 units for the year ended 31 December. This marks a 9.3% hike on the previous year, and the strongest output since the boom year of 2008 when 3,970 aircraft were shipped.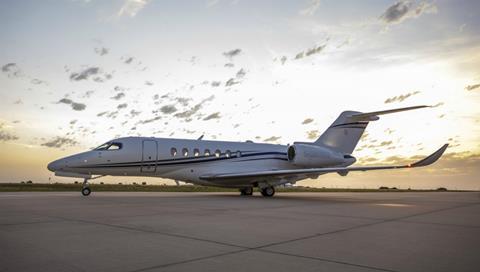 The value of the deliveries climbed from $20.6 billion in 2018 to $23.5 billion in 2019 - an increase of 14.3% - according to GAMA.
Business jet shipments climbed by over 15%, to 809 aircraft – a 106-unit hike – thanks largely to the introduction of new models in 2019 including the Bombardier Global 7500 (six units), Cessna Citation Longitude (eight units) and Embraer Praetor 500/600 (16 units).
The sector also benefited last year from the production ramp-up of popular light jets, including the Cirrus SF50 Vision Jet – growing from 63 to 81 aircraft - and the Pilatus PC-24, from 18 to 40 units.
The piston aircraft sector was the strongest performer in 2019, due to a surge in demand for single- and twin-engined models from international training schools. Deliveries climbed from 1,137 aircraft in 2018 to 1,324 last year, including the first Tecnam P2012 Traveller twins.
However, the turboprop sector recorded an 11.3% fall in output in 2019 to 525 aircraft, with the 67-unit slide largely due to falling demand for agricultural aircraft, such as the Air Tractor AT series and Thrush SR family.
Despite the weak turboprop performance, GAMA chief executive Peter Bunce says the 2019 shipments "reveal that overall, the general aviation manufacturing industry is vibrant".
"It is great to see two of our fixed-wing sectors, piston airplane and business jet shipments, reached decade highs," he adds.
Looking ahead, Bunce says manufacturers are "excited" about the future, "especially given the ongoing innovation in manufacturing… and the progress being made in the development of supersonic and electrically propelled aircraft."
Bunce adds: "GAMA and its member companies will support this momentum and technological advancement through our workforce, sustainability, regulatory and legislative efforts."