Fly Aeolus, the largest operator of the Cirrus SR22 in Europe, is preparing to expand its fractional ownership programme within its core regions of Belgium, France, Germany and the Netherlands to exploit the growing business demand for the high-performance piston-single.
Antwerp-based Fly Aeolus is also seeking to launch charter services with the SR22, and is a calling for a change in European regulation to allow the high-end four-seater to operate in a commercial capacity without restrictions.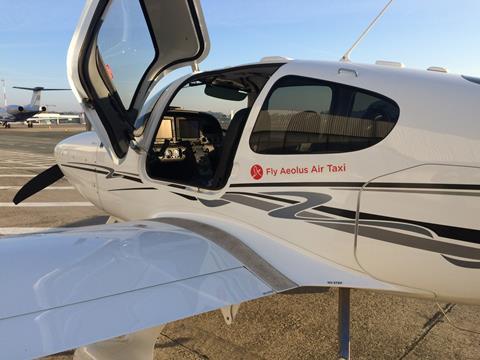 The operator was launched in 2009 serving Belgium and the Netherlands with one privately owned SR22. It expanded into France and Germany in 2019 and now serves members in four countries with a fleet of 15 aircraft.
"Our aim is to add between two to three SR22s a year," says co-founder Vincent Wigmans. "There is plenty of demand of there."
The fleet consists of privately-owned SR22s which are managed by Fly Aeolus, and flown by commercially qualified pilots – with three crew allocated to each aircraft.
To join the programme, customers must acquire a small share in an aircraft. This gives them accees to the whole fleet, with all flights offered on an ad hoc basis.
"We also offer a pre-paid card programme with prices starting at €10,000 [$11,500] for around 15h of flying time," says Wigmans.
He describes the SR22 as "an ideal aircraft for short hops around Europe" with a high level of comfort and safety, and an ability to access over 1,600 airports and airfields "bringing the customer closer to their final destination".
"Some of our customers use the SR22 for short trips and business jets for longer journeys," he says.
While Fly Aeolus has a growing customer base, Wigmans would like to broaden the offering to include ad hoc and pre-paid charter. "At the moment single-engined piston aircraft are only allowed on an air operator certificate [AOC] when the flights are being performed in visual meteorological conditions [VMC]," he says. "This is not preferred, given the limited amount of daylight during the autumn and winter months."
Fly Aeolus is keen to convince the authorities that many single-engined piston aircraft are now being developed and produced to a very high standard. Wigmans cites the SR22's "very reliable" Continental IO-550 engine, emergency parachute system and Garmin Perspective glass cockpit featuring "the best situational awareness via a moving map", satellite weather information, synthetic vision, terrain awareness option, infrared camera and "comprehensive" ice protection.
"These safety systems are even not available on many private jets that companies are operating on an AOC," says Wigmans.
The European Union Aviation Safety Agency has made a "big step forward", he adds, in allowing single-engined turboprops to fly commercially in instrument meteorological conditions – the rule was approved in 2017 following more than 20 years of lobbying by European operators and turboprop manufacturers.
"We are hoping that in the coming years we can add certain single-engine piston aircraft with additional safety features to an AOC without any limitations," Wigmans says.