Garmin has secured US certification for the next-generation G1000 NXi integrated flightdeck on the Embraer Phenom 300, and says it will perform the first upgrades of in-service jets in the coming weeks.
The approval came seven months after the Olathe, Kansas-headquartered avionics firm secured validation for the NXi on the entry-level Phenom 100.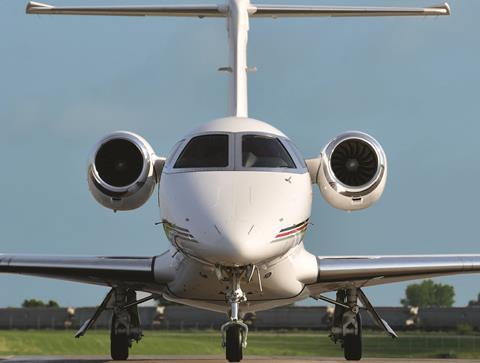 Garmin is targeting owners and operators of the around 180 first-generation, G1000-equipped Phenom 300s. The G3000 touchsceen flightdeck was introduced as standard on the eight-seat twin in 2013.
Introduced in January 2017, the NXi suite features wireless cockpit connectivity, enhanced situational awareness, visual approaches and map overlay on the horizontal situation indicator.
Crucially, the displays also "preserve the same mechanical footprint and harness connections" as their predecessors, keeping downtime for the upgrade to a minimum, Garmin adds.
The upgrade is available through Embraer's service centre network and Garmin dealers.