Gulfstream has embarked on an international customer demonstration tour with its G700 cabin mock-up, in a bid to drum up sales of the ultra-long-range business jet in its key markets.
Monterey, California, is the first stop on a multi-city tour, initially of the USA. This will be followed by a visit to Switzerland - including a spell at the European Business Aviation Convention and Exhibition in Geneva during May - and then France and the UK.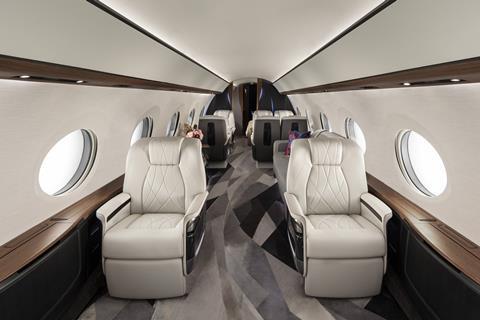 Launched in October 2019, the 7,500nm (13,900km)-range, Rolls-Royce Pearl 700-powered G700 sits at the top of Gulfstream's seven-strong family of high-end business jets.
Gulfstream describes the G700's cabin as "the largest in the industry", at 17.4m (57ft) long and 2.4m wide. It can seat a maximum of 19 passengers in up to five bespoke "living areas", including a passenger lounge, master suite and "flexible space with a fully deployable six-place dining or conference table", the company says.
The G700 also introduces what it calls "the most advanced and only true circadian lighting system in aviation". This feature simulates sunrise and sunset "and greatly reduces the physical impact of ultra-long-range travel", it says.
"We have been excited to show customers this amazing aircraft," says Gulfstream president Mark Burns. "The combination of technology and cabin innovation raises the bar for the business jet industry."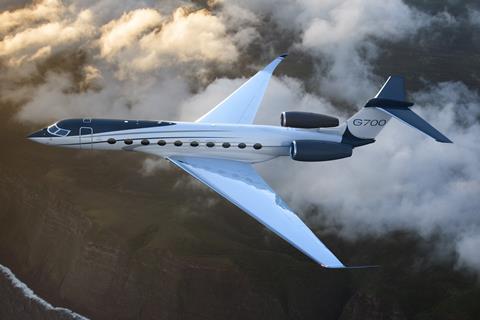 The G700 has been well received since its launch, with sales of the Mach 0.925-capable twin in the fourth quarter of 2019 contributing significantly to Gulfstream's biggest order backlog for a decade, according to parent company General Dynamics. Customers include VIP operators Flexjet and Qatar Executive, with undisclosed order sizes.
Construction of all five G700 test aircraft is complete, and the first example is scheduled to make its maiden flight in June from Gulfstream's Savannah headquarters. Certification and service entry are expected in 2022.