Gulfstream is slashing jobs across its operation to mitigate the effects of the coronavirus pandemic on its business and ensure its long-term viability.
The company will also close its Las Vegas service centre in June, and move the work to its nearby facility in Van Nuys, California.
Gulfstream says the "ongoing challenges from Covid-19 have led to a decrease in the company's projected 2020 deliveries". Output of between 125-130 business jets is now planned, compared with the original forecast for the year of 150 G650/ERs, G600s, G550s, G500s and G280s.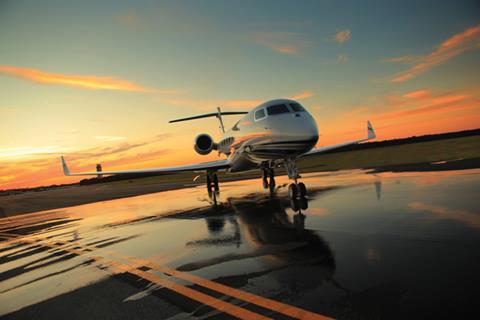 The company says the cost-cutting measures it has already undertaken to address the challenges caused by the pandemic, "were not sufficient to overcome this significant impact, requiring us to take additional steps to balance the size and structure of the business with current conditions".
As a result, it adds "we recently made the difficult decision to reduce our workforce at multiple locations across our company". This includes 700 job losses at its Savannah headquarters.
Gulfstream says "the biggest factors" contributing to its decision to shut the Las Vegas service centre are "the proximity, central location and significant customer resources" at its Van Nuys base, including the availability of sustainable aviation fuel and increased ramp space for parking.
"These are challenging and unprecedented times that require us to make difficult decisions to ensure the long-term health of the business," says Gulfstream. "We sincerely regret the impact these actions will have on our colleagues and their families."
Gulfstream shipped 23 business jets in the first quarter, down from 34 a year ago. It also produced another 11 aircraft, which could not be delivered to customers due to international travel restrictions imposed by the coronavirus outbreak.
On the first-quarter earnings call on 29 April with Gulfstream's parent, General Dynamics, chief executive Phebe Novakovic said the constrained travel environment is also impacting sales of new aircraft due to the challenge of closing a deal. "It is difficult for our people to make in-person sales calls; we can't take customers on demonstration rides, and it is difficult to get folks together to work on contract issues," she said.
The pandemic is also hitting Gulfstream's supply chain. Some of the company's suppliers, already dealing with financial struggles related to the commercial aerospace industry before the crisis hit, have had trouble keeping up with production rates.
Efficiency in Gulfstream plants has also been affected by measures such as social distancing rules, changes in work shifts and other adjustments during the pandemic.