Gulfstream has secured European certification for the G600, clearing the way for deliveries of the super-large-cabin business jet to begin to customers on the continent.
The approval comes nine months after the G600 entered service, having achieved US type certification in June 2019. Cirium fleets data records 13 deliveries of the Pratt & Whitney Canada PW815GA-powered aircraft to date.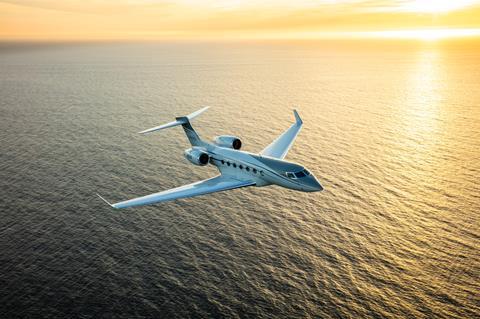 Gulfstream president Mark Burns says the G600's "advanced technology, high-speed performance and unparalleled efficiency will serve the intercontinental European business traveller well". He adds: "We are excited to get this aircraft in the hands of customers throughout the continent."
The G600's features include fly-by-wire controls and active control sidesticks, Honeywell's Primus Epic-based Symmetry flightdeck, with synthetic vision primary flight display and head-up display, and a third-generation enhanced vision system.
With seating for up to 19 passengers, the G600 has 6,500nm (12,000km) range and can reach speeds of Mach 0.925, the company says. Routes such as London to Los Angeles and Paris-Hong Kong are within its reach.
The G600 was launched in 2014, along with the smaller-cabin and shorter-range G500, which entered service in September 2018. The G500's European and US validations were secured in October 2019 and July 2018 respectively, and Cirium records 40 deliveries of the PW814GA-powered aircraft to date.