The latest and greatest Gulfstream business jet, the Rolls-Royce Pearl 700-powered G700, completed its first flight on 14 February from the company's base at Savannah-Hilton Head International Airport in Georgia.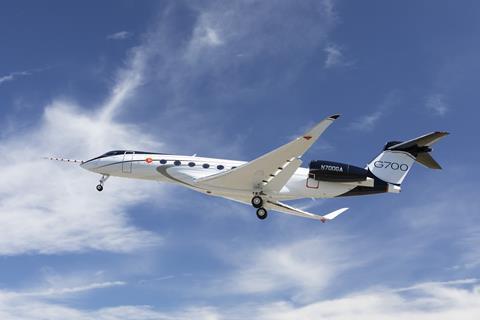 The maiden sortie, which lasted 2h 32min, began at 13:19 local time and was flown by G700 number one (msn 87001, N700GA) using a blend of sustainable aviation fuel. N700GA is one of five aircraft that will participate in the flight-test programme, all of which have been built, says Gulfstream. A structural-test article has already completed load testing. Deliveries are due to start in 2022.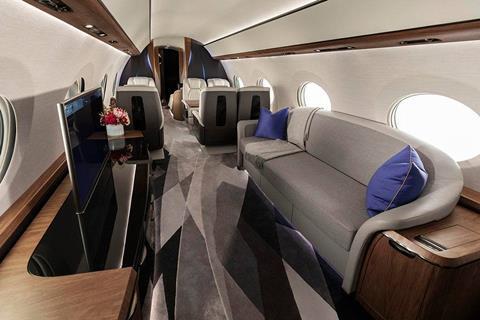 The 19-seat G700 was unveiled at last October's NBAA show in Las Vegas. Gulfstream claims it offers the longest, widest and tallest cabin in its class (above), incorporating 20 of the company's trademark panoramic oval windows, and up to five living areas.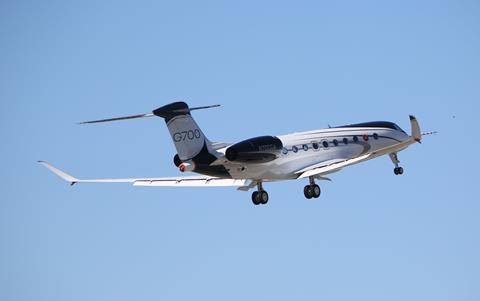 Features also include Gulfstream's "Symmetry Flight Deck" (below) incorporating electronically linked active control sidesticks and extensive use of touchscreen technology.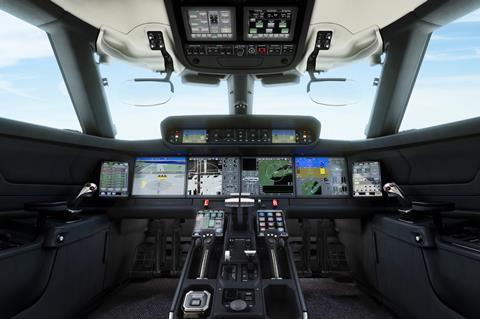 The G700 has a high-speed cruise of Mach 0.90, offering a rage of 6,400nm (11,900km). At its long-range cruise of M0.85, it can operate distances of 7,500nm. The wings incorporate an all-new winglet design. The Pearl 700 engines are rated at 18,250lb thrust (81.2kN).
Describing the first-flight milestone as "a momentous occasion", Gulfstream president Mark Burns says that "the G700 brings the best in the business together – the innovation of the G500 and G600 Symmetry Flight Deck and the legendary performance of the G650ER – and we are excited to deliver this exceptional aircraft to our customers."