Five years ago John Leahy, then Airbus chief operating officer, made his first and only visit to EBACE, to sign a single aircraft deal that heralded the launch of the ACJ320neo family, and a new era for the corporate airliner family.
The debut customer for that first re-engined narrowbody – an ACJ320neo – was UK luxury charter company Acropolis Aviation, a long-time Airbus operator that was planning to replace its then five-year-old ACJ319ceo (registration G-NOAH) with the latest luxury variant (G-KELT). The green aircraft was handed over in January 2019 to Swiss completions centre AMAC Aerospace and redelivered to Acropolis in February.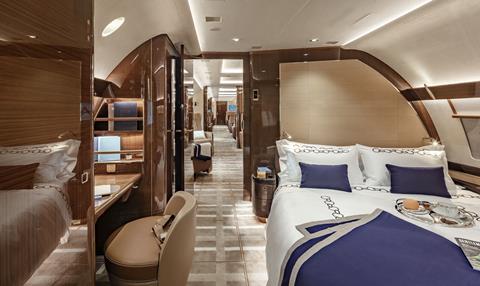 German charter and management company K5 Aviation was announced as debut customer for the smaller and longer-range ACJ319neo in 2016. The aircraft was delivered to Dutch maintenance, repair and overhaul firm Fokker Techniek for outfitting in July 2019 and is scheduled for redelivery later this year.
Airbus Corporate Jets president Benoit Defforge describes introduction of the ACJ320neo series as "very positive, with 14 sales so far [five ACJ319neos and nine ACJ320neos] of which seven have been delivered". The latest example – an ACJ320neo – was handed over on 26 May to Comlux. The Swiss aviation services company has acquired four ACJ320neos, and three examples are now being outfitted at its US completion centre in Indianapolis.
"The Neo family is building on the success of our ACJ320ceo family for which Airbus has delivered around 200 examples," Defforge adds.
Key features of the Neo platform are its wingtip- mounted sharklets, and quieter, more efficient engines – a choice between the CFM International Leap-1A (the most popular option) or Pratt & Whitney's PW1100G. Combined, these features have improved the platform's fuel burn, efficiency, range and performance, says Defforge.
The ACJ320neo can carry 25 passengers 6,000nm (11,100km), while the ACJ319neo will take eight passengers 6,750nm without refuelling, according to Airbus.
The low-noise level from the engines has also improved the cabin environment tremendously for passengers. "We have been able to reduce weight in the aircraft on soundproofing to get some incredible noise levels throughout the cabin, including under 47dBs in the bedroom," says Defforge.
The cabin environment also benefits from the aircraft's 6,400ft cabin altitude, and an optional, in-flight humidification system, supplied by Sweden's CTT. This feature, Defforge says, significantly reduces the dry atmosphere in the cabin which can be uncomfortable on long-haul flights.
With an inevitable recession looming in the wake of the coronavirus shutdowns, the short-term outlook for sales is uncertain. "We don't have a crystal ball, so we can't say how this is going to play out," says Defforge.
Thankfully the orderbook is solid, he says, adding: "We have had no cancellations or deferrals. There is still demand for this aircraft and we are pursuing a number of very strong leads."
For the Neo-series launch customer, however, the pandemic has had a devastating impact on business.
"We were building a strong pipeline of charter business for G-KELT, but only managed to squeeze two revenue trips in before the world shut down," says Acropolis chief executive Jonathan Bousfield.
With an endurance of 12.5h, Acropolis' Leap-1A-powered aircraft is ideally suited to ultra-long-range charters, typically on transpacific routes from the west coast USA to Australia, New Zealand and Japan.
While G-KELT remains grounded, business is starting to trickle back in the form of enquiries, Bousfield says.
"Travel restrictions imposed following coronavirus pandemic aren't helping our business, and this is a difficult period, but they will gradually be eased across the world and then people will start flying again," he adds.
"There will always a demand for our type of bespoke service", Bousfield continues, particularly in the high-end, luxury long-haul leisure market, which is less impacted by financial downturns than more traditional sectors of the business aviation industry.
Bousfield describes G-KELT as "an apartment in the sky".
Created by French design house Alberto Pinto, the interior accommodates 19 passengers and features a forward lounge and dining area, a full-sized kitchen and a private master bedroom leading to a luxury en-suite.
G-KELT has been fitted with in-flight wi-fi via a Ka-band internet connection, the Collins Aerospace Venue cabin management system and Stage in-flight entertainment system, "allowing hundreds of movies and TV programmes to be viewed on 19 individual iPads and four large TV screens throughout the cabin".
Collins is also providing its Viu LED mood interior lighting system, while its Airshow moving map display features on the four large cabin screens. Acropolis's narrowbody is also fitted with CTT's inflight humidification system.
"This is beautiful aircraft," says Bousfield. "When we come out the other side in the new normal, I am confident that demand for our new, modern VVIP airliner will be as strong as ever."