Completion specialist Jet Aviation has delivered a Boeing 737 Max 8 business jet to a customer, outfitted with a VVIP cabin interior.
The customer has not been disclosed but an illustration provided by the company shows a Max 8 with the Cayman Islands registration VP-CMA.
Jet Aviation says the design and engineering work was carried out at its centre in Basel. It says the aircraft is the first 737 Max BBJ to have such a cabin fitted.
"The brief was for a cosy residential space in which one could relax and enjoy the ride," says Jet Aviation senior director of design Grischa Schmidt.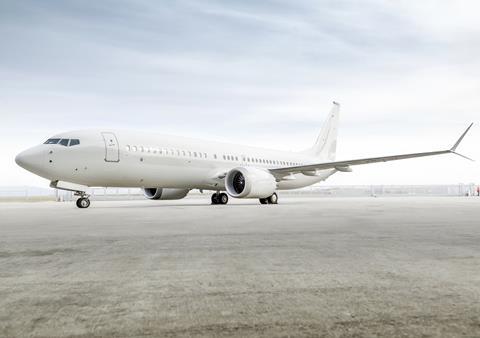 Its features include a seven-seat dining table, kitchen, a sofa and indirect lighting. Among the fittings are woven wooden panelling, cocoon seats and an integrated wine fridge.
"This interior is a fine example of the intricacy and attention to detail of our teams here in Basel," says Jet Aviation vice-president for completion sales Matthew Woollaston.
"This was an exciting opportunity to familiarize ourselves with the next generation of this aircraft."