Jet Linx Aviation has snapped up the aircraft operating arm of fellow US business aviation services provider Meridian to become what it claims is the second-largest aircraft management company in the USA.
Announced on 8 July, the acquisition is described by Jet Linx president Jamie Walker as "a significant step in our strategic plan as we continue to enhance our fleet and flight operations serving the New York tri-state area, and further develop the company as the leader in private jet travel". The tri-state area comprises New York, Connecticut and New Jersey.
Jet Linx says the purchase adds Teterboro-based Meridian's 23 light, midsize, large-cabin and long-range twin- and tri-engined business jets its 110-strong turbine fleet. Jet Linx says that fleet has a retail value of $365 million.
By comparison, EJM is the largest business aircraft management firm in the USA, with a fleet of over 200 jets.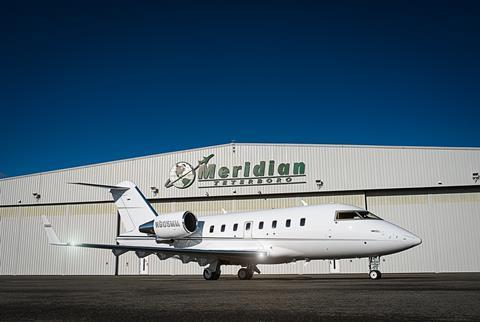 Meridian will retain fixed-base operations (FBOs) and maintenance businesses at Hayward Executive airport near San Francisco, and at Teterboro airport in New Jersey, where Jet Linx opened a base last September.
"Like Jet Linx, Meridian is a family-owned business, and it will be our commitment and our privilege to continue their legacy of excellence, safety and service," Walker says.
Ken Forester, owner and chief executive of Meridian, says it was important for the company to find a buyer able to bring Meridian's aircraft management and charter business to the next level, "and Jet Linx was the obvious choice".
"We are excited to continue supporting Jet Linx, and our former aircraft management and charter customers, through our FBO and aircraft maintenance businesses going forward," Forester adds.
Story updated on 8 July to note, based on additional information from Jet Linx, that the retail value of Meridian's fleet is $365 million. That figure is not the price of the acquisition.