JetSuite filed for voluntary Chapter 11 bankruptcy protection on 28 April, blaming the move on slumping demand for ad hoc charters caused by the coronavirus outbreak.
The move came two weeks after the Dallas-headquartered firm grounded its 12-strong fleet of Embraer business jets and furloughed most of its workforce. The company's JSX public charter service continues to operate, however, albeit to a reduced timetable.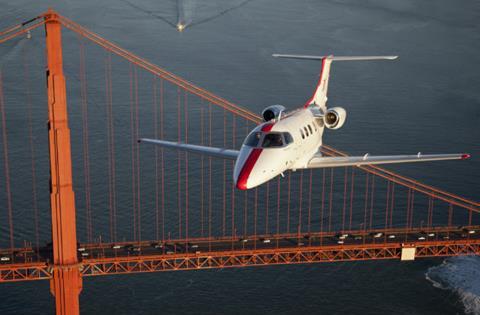 The filing – made in a Delaware bankruptcy court in the name of JetSuite's operating company Superior Air Charter – estimates the 12-year-old company has up to $10 million in assets, and liabilities of between $50 million and $100 million. The largest of these debts, at $931,000, is owed to online streaming company Netflix, the documents show.
"The global circumstances brought on by the Covid-19 pandemic have caused JetSuite's revenues to drop to near zero," says Ted Gavin, chief restructuring officer, appointed by JetSuite to guide the company through the Chapter 11 process.
"The carnage across the economy and in the aviation industry in particular is well reported, and has no clear end in sight, so we have made the regrettable but necessary decision to file for Chapter 11 bankruptcy protection," Gavin adds.
He says JetSuite hopes to use the process "to reorganise, preserve and maximise the value of its assets, and potentially resume operations".
JetSuite was launched by former JetBlue Airways executive Alex Wilcox in 2008 to offer a no-frills private jet service with a fleet of Embraer Phenom 100 entry-level jets. It later expanded its inventory to include longer-range Cessna Citation CJ3 light jets - which were eventually replaced by Phenom 300s - and a large-cabin Legacy 650.
In 2017, it introduced a bespoke membership-based charter programme called SuiteKey.
JSX was launched in 2016, under the brand name JetSuiteX. The service offers public charter flights to cities on the US West Coast using a fleet of 30-seat ERJ-135LRs.
JetSuite has attracted high-profile backers including JetBlue in 2016 and Qatar Airways in 2018.
The filing anticipates, "after any administrative expenses are paid, no funds will be available for distribution to unsecured creditors." It is estimated SuiteKey members had more than $50 million in unused flight credits at the time of the grounding.
JetSuite representatives did not respond to a request for comment.