UK start-up Neboair is gearing up to launch a rural air tourism service with a pair of all-electric Pipistrel Velis Electros. The operation is a stepping stone for ambitious plan to create a "micro-airline" using a fleet of small, sustainable aircraft to serve towns and cities throughout the UK and northern Europe using a network of under-utilised aerodromes.
"We are keeping a close eye of all the zero-emission aircraft programmes under development which could potentially be added to our fleet," says Neboair founder and chief executive Sergey Grachev.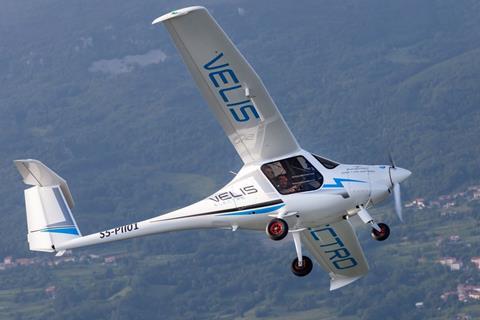 So far, the Velis Electro is the only all-electric aircraft to be be certificated anywhere, following European Union Aviation Safety Agency approval for the two-seat type on 10 June. Its 76hp (58kW) liquid-cooled electric engine and three-bladed, fixed-pitch composite propeller delivers a cruise speed of 90kt (170km/h), and an endurance of up to 1h.
Neboair currently has two Velis Electros on order, with the first scheduled to arrive in September and enter service the following month. The second example will be added in March next year,"with a fleet of 10 Electros planned by the end of 2023", Grachev says.
The launch service will connect Damyns Hall aerodrome near London with Neboair's headquarters at Shipmeadow airfield, near Norwich. This private strip is located on the site of Neboair's sister company and high-end country retreat Yoga Park.
Neboair is also adding a third base at Wickenby airfield near Lincoln, around 1h northwest of Shipmeadow.
"Our aim with these Electros is to provide a rural tourism service and experience flights, and to train future pilots to fly fully-electric aircraft," says Grachev.
The service will initially be offered under a private ride-sharing arrangement, with each traveller sharing the direct operating costs of each flight. "Our aim is to build up interest in the concept of an emission-free air service before we go down the path of applying for an expensive AOC [air operator certificate], and launching a commercial operation," says Grachev.
He is in no doubt that sustainable air travel "is the future", and commuters will "embrace the concept of short-haul, zero-free, low-cost, low-noise, fast and efficient transport".
There is a potential to connect to around 100 licenced aerodromes in the UK, and even more in northern Europe, Grachev adds.
"First we have to put the infrastructure in place at these sites to serve this new generation of aircraft," he says.
Neboair is now in the process of installing fast-charging points for the Velis Electros in Damyns Hall, Shipmeadow, Wickenby, and at a couple of aerodromes in-between to allow for re-charging en-route.