NetJets has more than halved the number of business jets it expects to receive in 2020, as demand for travel plummets on the back of the coronavirus pandemic.
The firm has also the cut employee numbers at both its European fractional ownership operation and US-based Executive Jet Management (EJM) subsidiary by a quarter due to the weak operating environment.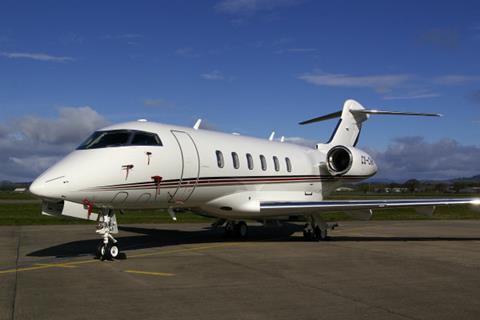 In a letter to employees, NetJets president of sales, marketing and service Patrick Gallagher says the "Covid-19 pandemic is affecting our business to a greater extent than any event since we were founded in May 1964".
The decisions taken will help the company to "navigate this time in our history and ensure NetJets is here to serve our owners for many years to come", he says.
Headquartered in Columbus, Ohio, NetJets is the largest business aircraft operator in the world, with a fleet of over 750 jets across its fractional, charter and management fleets.
It currently has a large number of jets on order for the fractional ownership operation from Bombardier, Cessna and Embraer.
Gallagher says "key to our ability to weather this storm, are the relationships that we have with our aircraft manufacturing partners".
NetJets has been adding around 60 new aircraft per year to its light, midsize and large-cabin fleet programmes for "the past several years" and had been planning to take a similar number in 2020.
However, because of the "new market realities", Gallagher says the company has "restructured, deferred, or cancelled many of the aircraft planned for the remainder of the year", reducing the total to 25.
"While we remain ready to serve and are still conducting hundreds of flights every week, our overall demand has been down significantly since mid-March," says Gallagher.
"With flight volumes so depressed, we have taken necessary steps to adapt, with some portions of our business more adversely affected than others," he adds.
Lisbon, Portugal-based NetJets Europe (NJE) has seen its workforce cut by 25%. "This move marks the need to align NJE's business structure to the current market and ensure our sustainability for the future success of that business," says Gallagher.
Europe has been pummelled by the coronavirus outbreak. According to the latest data from German research company WingX Advance, departures from European airports fell by over one-third in March and it expects a further decline in movements in April, May and June.
NetJets has also slashed by a quarter the workforce at EJM - its Cincinnati, Ohio-based charter and management subsidiary - "to correspond with demand forecasts", says Gallagher.
The company has not yet implemented any furloughs or workforce reductions at its US-based fractional ownership arm.
Gallagher says NetJets has rebuilt a strong and robust company following the financial crisis of 2008.
"Our stated goal was to build a business for all economic conditions so that we can serve our owners," he says. "Our unmatched financial stability, married with superior products and exceptional service enable us to maintain our leading position in the industry and withstand the downturn caused by this pandemic."