Garmin has secured US certification for the next-generation G1000 NXi integrated flightdeck on the Embraer Phenom 100, and says its will perform the first upgrades on the entry-level business jet "very soon".
The Olathe, Kansas-headquartered company is targeting owners and operators of the first and second generation G1000-equipped Phenom 100s, which it says amount to over 340 examples. The latest version of the six-seat twin, introduced in 2016, is equipped with the G3000 flightdeck.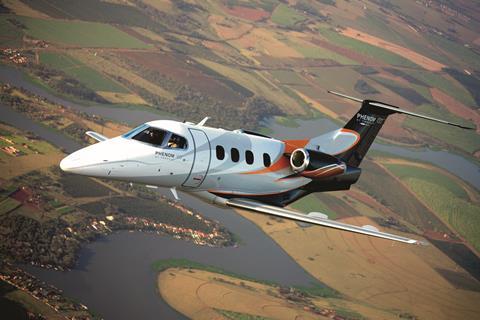 Priced at $60,000, the NXi upgrade is available through Embraer's service centre network and Garmin dealers, and the company says interest among the Phenom community has been strong.
Introduced in January 2017, the NXi features wireless cockpit connectivity, enhanced situational awareness, visual approaches and map overlay on the horizontal situation indicator. NXi-equipped aircraft also meet automatic dependent surveillance – broadcast (ADS-B) Out requirements, which will become compulsory in the USA on 1 January 2020 and in Europe from 7 June 2020.
Carl Wolf, Garmin's vice-president of aviation sales and marketing, says "demand for the NXi continues to grow in popularity and demand".
"From forward-fit to retrofit, we are thrilled by the tremendous adoption rate and look forward to adding more aircraft to the approval list and continuing to deliver the system to thousands of customers well into the future."
The G1000 NXi already features on a host of aircraft platforms, including the Cessna Citation Mustang business jet, Cirrus SR-20/22 piston-singles; the Beechcraft Baron, and Diamond DA42/62 piston-twins; the King Air 200/300/350 twin-engined turboprop family, the Daher TBM 850/900 and Piper M500 turbine-singles.
Garmin is now working towards securing supplemental type certification on the Phenom 300 in 2020.