Pilatus has delivered the 100th PC-24 business jet, with the milestone aircraft handed to long-term customer Jetfly Aviation.
Luxembourg-based fractional ownership provider Jetfly now operates nine PC-24s, part of a 51-strong Pilatus fleet.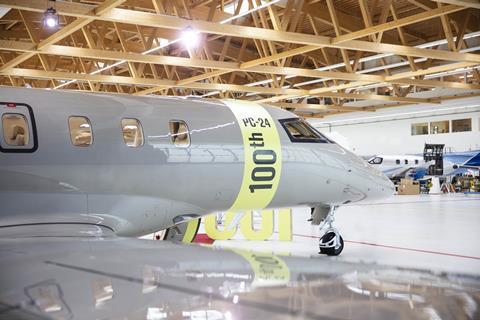 Pilatus says PC-24 production at its Stans, Switzerland site is sold out in 2021, with the next available slot in early 2022.
Oscar Schwenk, Pilatus chairman, says: "Investment in the PC-24 helps us to secure jobs at our Swiss site on a long-term basis.
"We are also working on further optimisations. In short, we will spare no effort to ensure that the PC-24 stays the undisputed leader in its class – exactly as the PC-12 is now."
Shipments of the six-seat, Williams International FJ44-4A-powered light jet began in 2018.