Polish air ambulance provider Lotnicze Pogotowie Ratunkowe (LPR) is adding business jets to its fleet for the first time, with the purchase of two Bombardier Learjet 75 Libertys.
Scheduled for delivery in 2021, the 2,080nm (3850km)-range superlight twins will be used by the Warsaw-headquartered company to broaden its emergency medical services (EMS) offering within Poland, and expand the service internationally.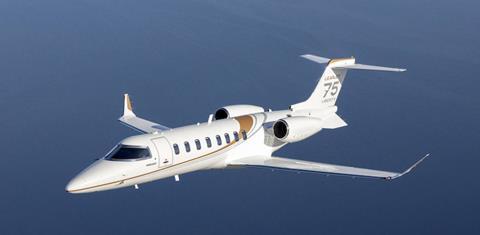 LPR currently services the Polish market with its 29-strong EMS-equipped fleet, which consists of 27 Airbus Helicopters H135s and two Piaggio P180 Avanti twin-engined turboprops.
Wojciech Wozniczka, LPR's director of key project management, says the Liberty "fits perfectly into our strategic plans for growth in Poland, and will provide the necessary combination of speed and range to drive the expansion of our operational capabilities and EMS transport availability into international operations".
The twinjets will be delivered for outfitting later this year to Fargo Jet Center in North Dakota; nearby firm Spectrum Aeromed will provide the aero-medical equipment for the project.
Stephane Leroy, sales vice-president at Bombardier Specialized Aircraft, describes the Liberty as "an excellent choice" for EMS missions with its "best-in-class spaciousness, speed and range".
Bombardier says the Liberty can connect Warsaw with "all of Europe, including Iceland, and beyond into Northern Africa, Russia and the Middle East".
LPR operates from more than 20 locations across Poland. In 2019, the operator carried out more than 16,000 medical rescue missions and transported nearly 10,000 patients - a 10% year-on-year increase.
The $9.9 million Liberty is now undergoing flight testing at Bombardier's facility in Wichita, Kansas and is on target to secure certification and enter service in mid-2020.