Qatar Executive has launched a bespoke, flexible charter programme which it hopes will boost the appeal of its luxury business aircraft fleet, as the market for VIP travel emerges after months of lockdown.
Mark Hardman, acting chief executive of the Qatar Airways subsidiary, says the scheme, dubbed "Diamond Agreement", allows customers to pre-purchase flight time at fixed hourly rates on its 18 large-cabin, long- and ultra-long-range business jets. "The Diamond Agreement offers the ultimate in flexibility at a fixed price with each agreement tailored to the clients' needs," says Hardman.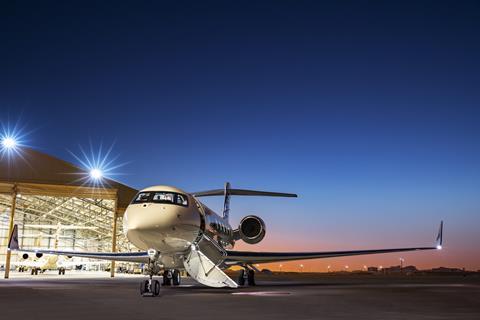 The programme is designed for companies and individuals with a relatively set travel pattern, and who want to guarantee flight costs in advance "for budgeting purposes", Hardman says.
There are no membership fees, but clients must purchase a minimum of 50h of flight time to be eligible for fixed charter rates, which cover both flight hours and taxi time. "The pre-purchased hours have no minimum annual usage and no maximum carry-over, making the Diamond Agreement flexible," Hardman adds. "We also offer guaranteed availability for reservations booked 72h in advance".
The Covid-19 pandemic is triggering a rise in demand for business aircraft, from travellers wanting to avoid crowded commercial airlines and airports in favour of high-quality, personalised, safe and tailored transport. "None of our aircraft seat more than 13 passengers, and are very clean and comfortable," says Hardman. Qatar's seven Gulfstream G650s and five G500s are particularly appealing, he adds, "as they contain a unique [filtration] system that pumps 100% fresh air into the cabin every 2min," says Hardman.
Customers also connect via dedicate private aviation terminals and fixed-based operations, "thereby avoiding crowded commercial airports".
Hardman says Qatar Executive was "very busy" in the early weeks of the pandemic, following huge global demand for repatriation flights. While the market slowed in April and May, "the green shoots started emerging in June", with a growing number of enquiries mainly from European and Asian customers.
Hardman is confident the business aircraft market will fully rebound, despite the global surge in homeworking and virtual meetings. "Never has there been a more important time to travel for business and leisure, and there will be always be a demand for face-to-face meetings," he says. "With our company-owned fleet of [Bombardier] Global 5000's XRS, Challenger 605s, G650s and G500s, Qatar Executive is well positioned to lead the charge."