Stratos Aircraft has launched the flight-test campaign for its 716X, with the very light jet (N716X) performing its maiden sortie on 2 July from the airframer's base in Redmond, Oregon.
Flown by test pilot Sean VanHatten, the milestone sortie lasted 22min starting with a full-power take-off and climb to 13,500ft. "A series of manoeuvres were then conducted to evaluate handling characteristics," says Stratos.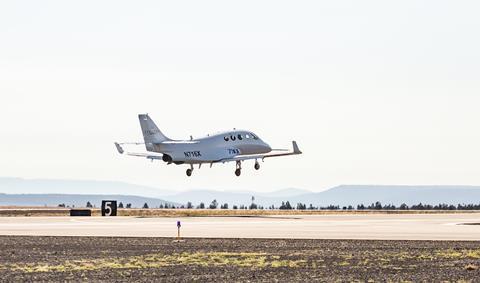 "The first flight of the 716X went as briefed, which is a testament to the design quality and the professionalism of the crew here at Stratos," says VanHatten. "The aircraft is well harmonised, and its directional stability was very good," he adds.
Startos says the sortie is the first of "an extensive flight-test programme that will span the next several months".
Launched in 2018, the carbonfibre, single-engined 716 programme is a longer and wider version of the 714, which it replaces.
The 716X is the kit-built version of the six-seat aircraft, which Stratos chose to bring to market ahead of the US Federal Aviation Administration FAR Part 23-certificated model. This is to allow the company to refine the product, lower development costs for the 716, and help attract investors who will assist in bringing this version to market.
While structurally both aircraft are identical, the 716X is powered by the same 2,900lb (12.9kN)-thrust Pratt & Whitney Canada JT15D-5 engine as the 714 and features a Garmin G3X flightdeck. The certificated variant will use a 3,400lb-thrust PW535E, and feature either G3000 or G5000 avionics.
"When we introduced the proof-of-concept 714 three years ago, the marketplace interest was tremendous," says Stratos chief techinical officer, Carsten Sundin. "It was clear that the market is looking for the performance and comfort we were offering, but in a true six-place aircraft. We have achieved this with the 716X. With a cabin width of 4ft [1.2m] and height of 4.8ft, there is plenty of room for passengers to relax on long flights."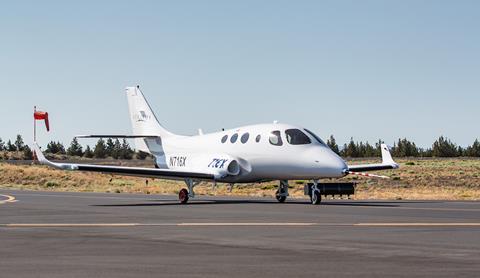 Stratos says it has "invested significantly" to support the production of the 716 and 716X. Its Redmond facility totals over 3,800sq m (41,000sq ft) and "boasts a full engineering team, design office, assembly facility, and a manufacturing machine shop complete with a gantry router, large volume 3D printer, waterjet cutter, and CNC machines," it says.
Stratos is also building a "state-of-the-art" composite manufacturing facility on the site, it says.