Textron Aviation has mated the wings to the fuselage of the first Cessna SkyCourier twin-engined turboprop in what it describes as a "key milestone in the development of the clean-sheet aircraft". First flight is pegged for 2020.
Textron says SkyCourier development is "progressing considerably", with the assembly of the prototype and additional five flight and ground test articles. "Landing gear testing continues, as well as avionics ground testing," it adds.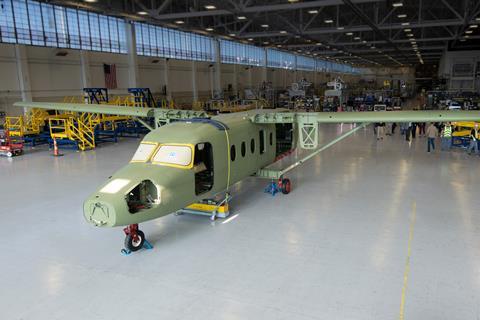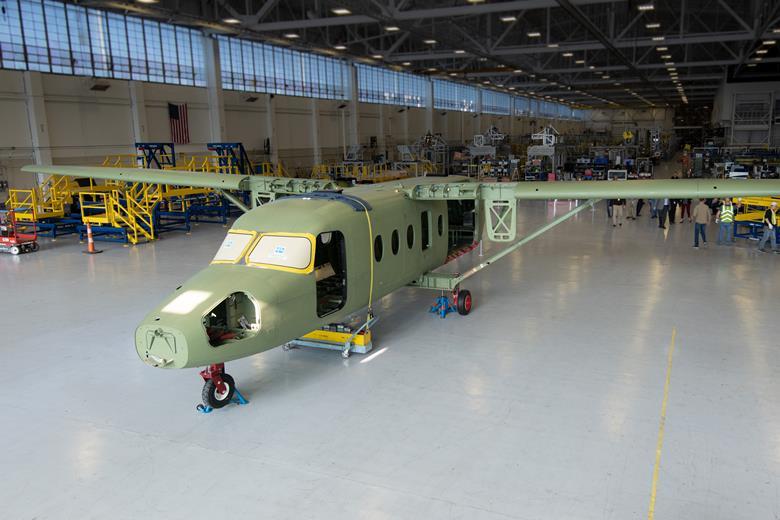 Powered by Pratt & Whitney Canada PT6A-65SC-turboprops, the SkyCourier will be offered in various configurations including freighter, passenger or combi - all based on a "common platform" with a 2,720kh (6,000lb) payload.
In its freighter configuration, the high-wing SkyCourier is designed to accommodate three standard air cargo containers (LD3), with a 2.21m-wide outward-opening door for easy loading and unloading.
The passenger variant carries up to 19 people, while the combi version is capable of carrying both cargo and nine passengers.
Textron says it designed the unpressurised aircraft for "high utilisation" and to deliver "a combination of robust performance and lower operating costs".
The Garmin G1000 NXi-equipped SkyCourier has a maximum cruise speed of up to 370km (200kt) and a maximum range of 1,700km. Both freighter and passenger variants will offer single-point pressure refuelling to "enable faster turnarounds".
Textron launched the programme in 2017 on the back of an order from FedEx for up to 100 aircraft. They will replace the Memphis-based freight carrier's turboprop fleet of Cessna 208 Caravans and ATR 42s.