Textron Aviation has introduced the Beechcraft King Air 260 turboprop, a smaller version of its recently-launched King Air 360, and expects to receive certification and begin deliveries early next year.
"We are bringing the latest technological advancements to the cockpit," Rob Scholl, Textron Aviation's senior vice-president of sales and flight operations, says on a webcast on the first day of VBACE, NBAA's virtual business aviation event on 2 December.
"The aircraft is already in production and customer deliveries are expected to begin in the first half of 2021," he adds.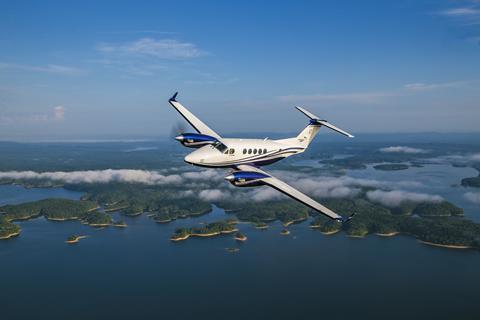 The King Air 260 seats nine and has a range of 1,720nm (3,096km). Its top cruise speed is 310kt (558 km/h). It has a new technology features like the ThrustSense auto-throttle system, enhanced weather radar and a digital pressurisation controller, lowering the workload for pilots and increasing passenger comfort, the company says.
The King Air 360 and 360ER, which seat 11, have a longer range as well as similar technology features, received FAA certification in October.
The Beechcraft King Air series, which has been in production since 1964, is the most popular business turboprop family in the world, with 7,600 deliveries so far, Textron says