Vertical take-off and landing (VTOL) aircraft developer Transcend Air is hoping to secure its first round of private investment before year-end, which it says should generate enough funding to build and fly the first full-scale prototype of its six-seat, tiltwing Vy 400 air taxi.
Peter Schmidt, co-founder and chief operating officer of the Boston, Massachusetts-based firm, says the coronavirus outbreak has delayed the funding effort but has not dampened enthusiasm amongst investors for the single-engined Vy 400.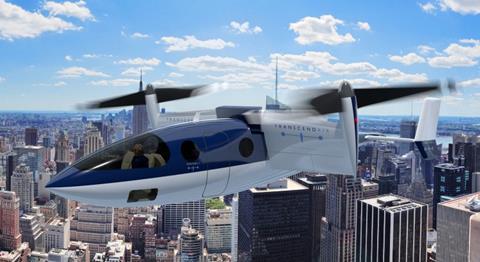 He describes the fly-by-wire aircraft as a "unique concept" for short-haul, city-to-city travel, with the aircraft designed to operate from traditional land-based heliports, and from water - docks and marinas for example - on bespoke, portable, barge-based landing pads.
"Waterfronts are often under-utilised public assets and within walking distance of many business centres," says Schmidt.
This will be a key benefit for a Vy 400 air taxi service as it cuts the cost and time of door-to-door travel significantly, he notes.
Schmidt envisages a huge market for the Vy 400 of "thousands of units a year globally", leading to a "several billion-dollar opportunity for operators".
The Vy 400 is designed to disrupt both the VIP helicopter and the city-to-city business travel market. Powered by a single 1,700shp (1,300kW) Pratt & Whitney Canada PT6A-67F turboshaft, the Vy 400 is projected to have a cruise speed of 350kt (650km/h), a range of up to 400nm (725km) and a full-fuel payload of 570kg (1,250lb). "It will immediately become both the world's fastest helicopter and the fastest single-engine civil turboprop on arrival, but with much lower operating costs," says Schmidt.
However, the design appears more comparable to the Leonardo Helicopters AW609 civil tiltrotor. This has been years in development, but when it arrives will offer a cruise speed of 275kt and a 700nm range, with a VIP cabin capable of holding up to eight passengers. Useful load is pegged at 2.7t.
In addition, Transcend's claimed cruise speed would make it faster than technology demonstrators from Airbus Helicopters and Sikorsky: their respective X3 and X2 compound rotorcraft achieved speeds of 255kt and 260kt during tests. Meanwhile, a single-engined turboprop like the Pilatus PC-12 cruises at 290kt.
Featuring a BRS-supplied whole airframe parachute system for added safety, the Vy 400 will be available in two configurations: a $3.5 million "airliner" variant for scheduled and charter passenger transport – and a $6 million VIP model, dubbed the Reserved Edition, aimed at private owners and corporate operators.
A key driver of Transcend's design philosophy is simplicity, he notes. "Despite the novelty of the VTOL configuration, our aircraft is actually the ultimate refinement of the titling concept that has been flown successfully by several aircraft, perhaps most notably by the Canadair CL-84 experimental VTOL aircraft in the 1960s."
He says unlike the electric VTOL (eVTOL) aircraft under development for the future urban air mobility (UAM) market, the Vy 400 uses "only proven technology that is already flying today, to serve markets that already exist today".
"It also requires no new battery technology, no new regulations, nor any new air traffic control procedures, unlike eVTOL UAM aircraft," Schmidt notes.
He does concede, however that "the future of aviation is electric", and says the Vy 400 has been designed to be "electrified when the technology advances sufficiently for its mission".
Transcend decided not to start with an electric or hybrid-electric design, believing this route to certification to be a "higher risk", and the aircraft performance in these configurations "insufficient to address the markets we are targeting", says Schmidt.
Once this technology has arrived, Vy 400s "already in the field" will be converted by swapping the turbine engine for an electric motor, andfuel tanks for batteries, "or fuel cells, or super capacitors", he adds,
The programme has been funded to date by seed investors, but Transcend hopes to raise $20 million in its first funding round, planned for the second half of the year if the Coronavirus crisis has subsided. This money should be enough to fund the programme through to first flight of the full-scale Vy 400 prototype, pegged for early 2022.
Two electric-powered one-fifth-scale models have been in flight testing since September 2018 where they have demonstrated transition from vertical to horizontal flight and undergone hover testing, says Schmidt.
Transcend hopes to partner with an established aircraft manufacturer to help develop the programme and bring the final product to market. "We are in talks with a number of interested parties," Schmidt adds. "Our plan is to certificate and deliver the first aircraft in 2025," he says.
The firm is also in discussions with several potential partners to build its modular barge-based take-off and landing pad.