Embraer has received certification from the Brazilian, European and US regulators for the latest version of the Phenom 300E, and is preparing to deliver the first example early in the second quarter.
The upgraded aircraft is the third iteration of the Phenom 300-series which Embraer introduced in 2009, and which it describes as the "most delivered light business jet of the past decade." The original Phenom 300E – the E standing for "enhanced" – entered service in 2018.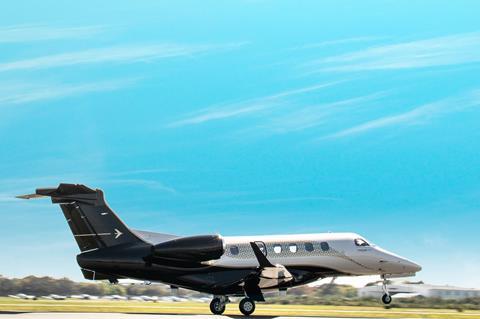 This latest model features improvements to the Garmin G3000-based Prodigy Touch flightdeck, including predictive windshear, emergency descent mode and a runway overrun awareness and alerting system. This feature acts as an additional pilot, says Embraer "and warns if the aircraft's approach is too steep or too fast, thereby increasing situational awareness".
Aircraft performance in the upgraded Phenom has also been boosted, with the Pratt & Whitney Canada PW535E1-powered twin delivering a high-speed cruise of 464kt (858km/h) – 11kt more than the current 300E - and a range with five occupants of 2,010nm (3,720km), 38nm further than its predecessor.
The enhanced aircraft can also reach a top speed of Mach 0.80, says Embraer, compared with its predecessor's Mach 0.78.
In the cabin, the airframer has introduced the option of the premium Bossa Nova Edition interior that made its debut in 2018 on the midsize-category Praetor 500 and 600. It has also added Gogo Avance L5 in-flight connectivity system and a number of noise-reduction measures.
"The triple certification by ANAC, EASA and the FAA reaffirms the position of the Phenom 300 series as the best light jet ever made, offering the ultimate experience in business aviation," says Embraer Executive Jets chief executive said Michael Amalfitano.
"Phenom 300E owners can be assured of the jet's performance, with our ongoing commitment to unparalleled technology, safety and comfort," he adds.
Cirium fleets data records deliveries of over 545 Phenom 300s to date, including 97 Phenom 300Es.