JetSuite has secured approval from a US bankruptcy court for its reorganisation plan, clearing the way for the business jet charter provider to resume operations.
Validation from the Delaware court comes just over four months after Dallas–headquartered JetSuite filed for Chapter 11 bankruptcy protection, blaming slumping demand for ad hoc charters caused by the coronavirus outbreak.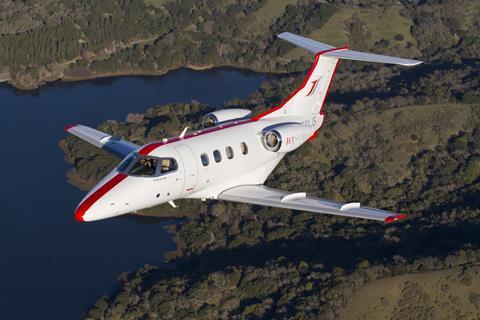 JetSuite also grounded its 12-strong fleet of Embraer business jets and furloughed most of its workforce. The company's JSX public charter service has continued to operate, albeit to a reduced timetable.
The filing in the name of JetSuite's operating company Superior Air Charter estimates the 12-year-old company has up to $10 million in assets, and liabilities of between $50 million and $100 million.
"The plan received overwhelming support from creditors, SuiteKey [charter membership programme] customers, aircraft lessors, and trade creditors alike," says Ted Gavin, the chief restructuring officer appointed to guide the company through the Chapter 11 process.
He adds that the "court's order means that the company can look forward to its next chapter of providing exceptional service to customers, and the post-confirmation trust established under the plan will shortly get to the business of returning value to unsecured creditors".
JetSuite was launched by former JetBlue Airways executive Alex Wilcox in 2008 to offer a no-frills private jet service with a fleet of Embraer Phenom 100 entry-level jets. It later expanded its inventory to include longer-range Cessna Citation CJ3 light jets, which were eventually replaced by Phenom 300s, and a large-cabin Embraer Legacy 650.
JSX was launched in 2016, under the brand name JetSuiteX. The service offers public charter flights to cities on the US West Coast using a fleet of 30-seat Embraer ERJ-135LRs.