Business aircraft winglet manufacturer Tamarack Aerospace is hoping to exit Chapter 11 bankruptcy protection early in the second quarter, after a US court approved its reorganisation plan, which will see the company repay all its creditors "in full".
Tamarack voluntarily filed for Chapter 11 protection on 1 June 2019, after European and US regulators grounded all Cessna Citation light business jets retrofitted with the company's Atlas active winglet system.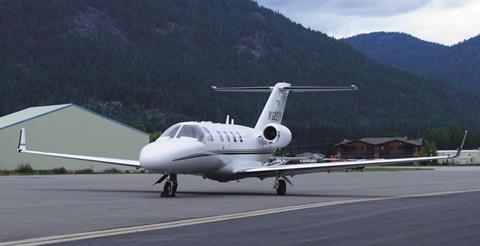 The European Union Aviation Safety Agency and US Federal Aviation Administration each issued emergency airworthiness directives after Atlas – a load-alleviation system – malfunctioned on a handful of occasions. This resulted in in-flight upsets, but in each incident the pilot was able to recover from the event and land the aircraft safely, Tamarack says.
The restrictions were lifted in July, and all Atlas-equipped CJ, CJ1/1+, CJ2/2+, CJ3/3+ and M2 twinjets were returned to service.
In August, the Sandpoint, Idaho-based firm received $1.95 million in committed debtor-in-possession (DIP) funds from what it describes as "friendly investors, including customers, vendors, and other company stakeholders".
This "line of credit", says Tamarack president Jacob Klinginsmith, has "provided a financial safety net as we resume operations and make plans to emerge from bankruptcy in a strong position".
Klinginsmith says the company has the "financial health to repay everyone in full, including the people who contributed to the DIP financing".
Since the grounding, Tamarack has installed active winglets on 10 Citation-series jets – a mix of CJ, CJ1, CJ2+, and CJ3+ aircraft – and Klinginsmith says work is now underway on its 100th installation. Interest in the product remains "strong", he adds.
"We are in discussion with a number of prospective customers, and spring has always been a good sales season for us," he notes.