Noise and safety are two key points of novel push-pull hybrid power scheme for 4- to 9-seater
A novel approach to regional air transport has got off the ground in western France, with VoltAero beginning flight trials of a hybrid-electric concept with a unique push-pull triple propeller configuration.
Flight trials, operating from the company's headquarters at Royan-Medis Aerodrome on the Atlantic coast between Bordeaux and La Rochelle, feature a six-seat testbed version of VoltAero's Cassio aircraft and are focussed on validating its electric and hybrid-electric powertrains. Production models, expected to be available from end 2022 or early 2023 initially in its four-seat version, will exploit a modular design that can be built in four-, six- or nine-seat or cargo/utility configurations.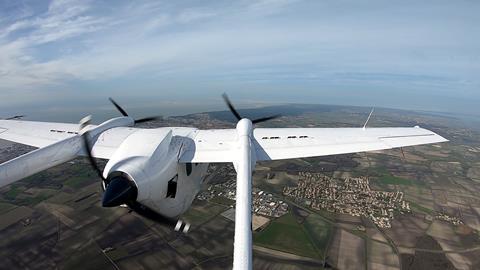 But the critical feature is the drivetrain: two 60kW electric puller props mounted on the high wing and a 180kW pusher at the rear of the fuselage, driven either electrically or by a Nissan petrol engine. The drive system will be able to run in either series or parallel hybrid modes, with the petrol engine ready to kick in if needed, but in normal flight used only to keep the batteries charged.
Jean Botti, the former Airbus chief technical officer who founded the company with Didier Esteyne - a close collaborator at Airbus during development and testing of the E-Fan all-electric two-seater which made the first all-electric Channel crossing in 2015 - says he is "very pleased with the testing as we accumulate time aloft and open up the aircraft's flight envelope".
For the current round of flight tests, the Cassio 1 testbed is an existing aircraft being progressively modified with VoltAero's hybrid-electric propulsion system and battery packs. For now, it is flying with two Safran-supplied ENGINeUS 45 electric motors and associated battery packs in puller mode added on the wings, and its standard forward- and aft-mounted thermal engines; the nose-mounted forward-facing thermal engine's propeller is running shut down but feathered, available if needed. Later trials will run with a smooth nose fairing resembling the shape that will eventually feature on the Cassio 2 production aircraft.
The hybrid drive system is still in prototype stage and undergoing ground testing before integration on the aircraft. VoltAero plans to unveil Cassio 2 on 24 March.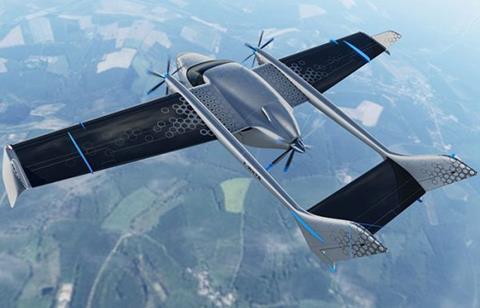 Test pilot Esteyne describes the flying as "truly remarkable, with no vibration and extremely low noise levels. It confirms that our Cassio aircraft will bring an entirely new experience to aviation."
VoltAero promises a 200kt (370km/h) cruise speed and 3h 30min endurance, extendable to 5h, implying range of about 650nm (1,200km) including reserve. Unveiling a model of the concept at last summer's Paris air show, Botti stressed two aspects of the concept: quiet operation and safety. The appeal of electric flight, he said, is low noise on take-off and landing, permitting 24h operations from airfields that would normally be closed to night flying, for example those close to residential areas.
And, he said, the hybrid-electric capability should dispel safety fears about electric flying.